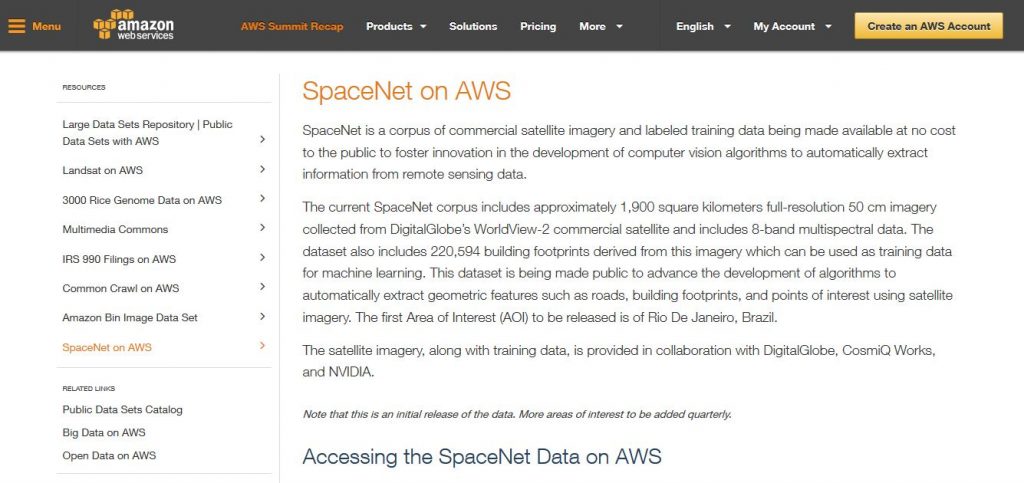 US: DigitalGlobe has launched its online repository of satellite imagery – SpaceNet – which will label training data and advance the development of machine learning and deep learning algorithms that leverage remote sensing data. It is a collaboration between DigitalGlobe, CosmiQ Works, and NVIDIA. Through SpaceNet, imagery is now freely available as a public data set on Amazon Web Services.
GPU-accelerated deep learning has led to huge breakthroughs in the field of computer vision. Most of this innovation has occurred through research enabled by ImageNet, a database of 14 million photographs labeled in over 20,000 categories.
SpaceNet aims to facilitate similar advances in automating the detection and extraction of features in satellite imagery, fueled by the massive amount of information about our changing planet that DigitalGlobe collects every day, and that of emerging commercial satellite imagery providers.
Until now, high-resolution satellite imagery has not been readily accessible for data scientists and developers to build meaningful computer vision algorithms. SpaceNet will for the first time open access to a large corpus of curated, high-resolution satellite imagery to incubate algorithm development.
SpaceNet will launch with an initial contribution of DigitalGlobe multi-spectral satellite imagery and 200,000 curated building footprints across the city of Rio de Janeiro, Brazil. This initial contribution will provide the necessary data to create new algorithms to automate the extraction of features like buildings in dense urban environments. Over time DigitalGlobe, CosmiQ Works, NVIDIA, and AWS anticipate making more than 60 million labeled satellite images accessible to the public via SpaceNet.