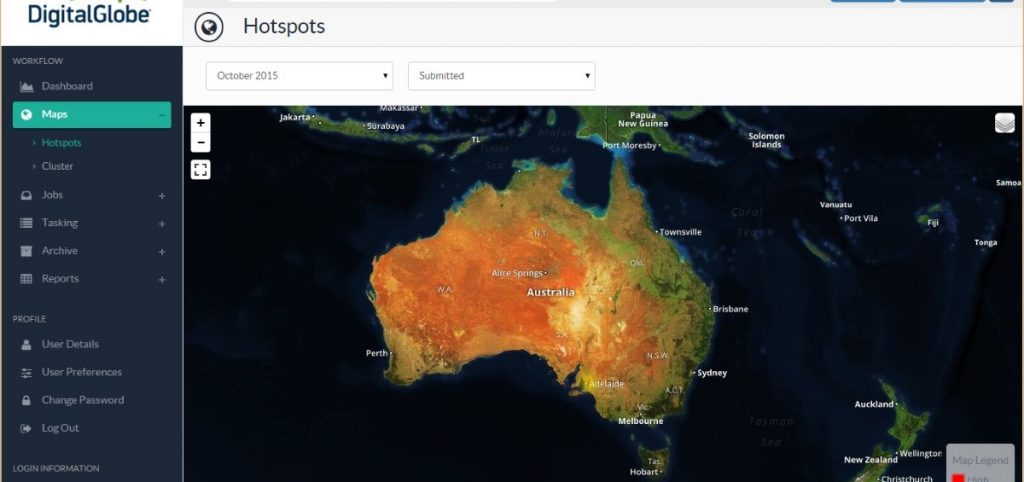 Australia: Earth imagery provider, DigitalGlobe, has received a contract from PSMA Australia to deploy its Geospatial Big Data platform (GBDX) to map the man-made environment and provide easy access to the physical attributes of more than 15 million structures across the Australian continent for a new product called Geoscape.
For the continent-scale project, GBDX will be used to create a massive amount of geospatial content and location information derived from more than 7.6 million square kilometers of high-resolution satellite imagery, proprietary DigitalGlobe and ecosystem partner technologies, and crowdsourced data.
Geoscape will host valuable location and structural information on buildings across Australia, including features such as building footprints and heights, rooftop materials, solar panels, and swimming pools. PSMA Australia offers national geospatial datasets derived from authoritative sources to support a range of public and private business solutions.
Geoscape will provide a comprehensive view into the location, distribution, and characteristics of structures around the entire continent with unprecedented fidelity. These insights can be applied broadly for applications such as insurance risk modelling, urban planning and services delivery, emergency planning and management, business intelligence, research, and policy development.
"DigitalGlobe developed GBDX and the partner ecosystem to enable the world to be analyzed at scale and critical decisions to be made with confidence," said Shay Har-Noy, DigitalGlobe's Platform General Manager. "Geoscape is a massive endeavor for which we're bringing together our GBDX ecosystem, amazing imagery, and deep learning technology to convert terabytes of imagery into precise information about the built environment for the entire Australian continent."
"Information about the built environment is the missing link in Australia's otherwise excellent location data framework," said Dan Paull, PSMA's Chief Executive Officer. "Working with DigitalGlobe, we have been able to combine innovative technologies and techniques to create Geoscape and develop an award-winning solution to the challenges presented by Australia's massive size."