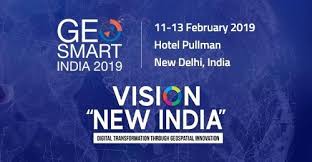 India: Geospatial Media and Communications has announced DigitalGlobe, the leading content provider of the world's highest resolution commercial satellite imagery and geospatial information products as the Silver Sponsor for GeoSmart India. The event is scheduled from 11th-13th February'19 at Hotel Pullman, New Delhi.
GeoSmart India is a platform which will bring together India's top-notch experts, researchers, policymakers, mapping agencies, decision-makers, developmental organizations, and educational institutions to showcase next-generation technology advancements using the real-time data which strengthens the aim of creating "New India".
"I am very proud to have DigitalGlobe at the 19th Edition of GeoSmart India as it is the world leader for geospatial content, products, and related services and a geospatial content company to provide an end-to-end solution for global acquisition, access, and distribution of both aerial and satellite imagery. We are sure the expertise and technological know-how that DigitalGlobe will contribute at GeoSmart India will be of immense use and interest to our audience", said Anamika Das, Vice President, Outreach and Business Development at Geospatial Media and Communications.