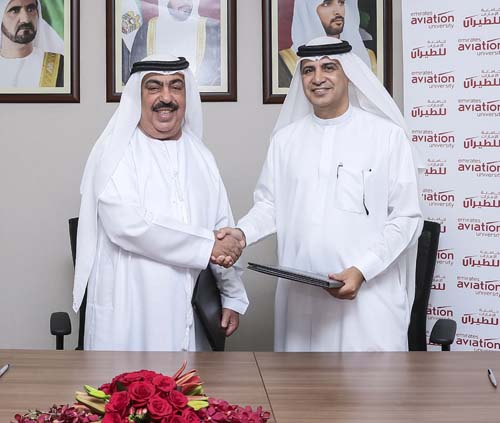 UAE: Dubai Civil Aviation Authority (DCAA), Dubai Air Navigation Services (Dans), and Emirates Aviation University (EAU) have signed a deal on Monday to train and develop human resources and provide full-fledged technical academic programmes for aviation students and professionals.
The agreement will see DCAA and EAU collaborating on several fronts including the design of joint training courses as well as educational and joint research initiatives and participation in conferences and educational seminars held by both entities.
DCAA will also support EAU's training programme while the university will provide special rates to DCAA employees and their families seeking to pursue their education with the university.
Meanwhile, EAU students will be able to gain practical, on-ground air traffic management experience through several initiatives such as; Dans' internships and professional training to better equip them for the job market. In addition, EAU will support Dans in enhancing its programmes through designing new courses that cater to aviation market requirements.
For Dans, this is the first partnership of its kind, when it is uniting an educational institute specialising in all spectrum of Aviation studies with a historical organisation leading air navigation services in the realm of the United Arab Emirates.
Dans is the air navigation services provider that manages the Dubai and Northern Emirates airspace and provides air navigation services for airport authorities and numerous prestigious airlines.
Source: Arabian Aerospace