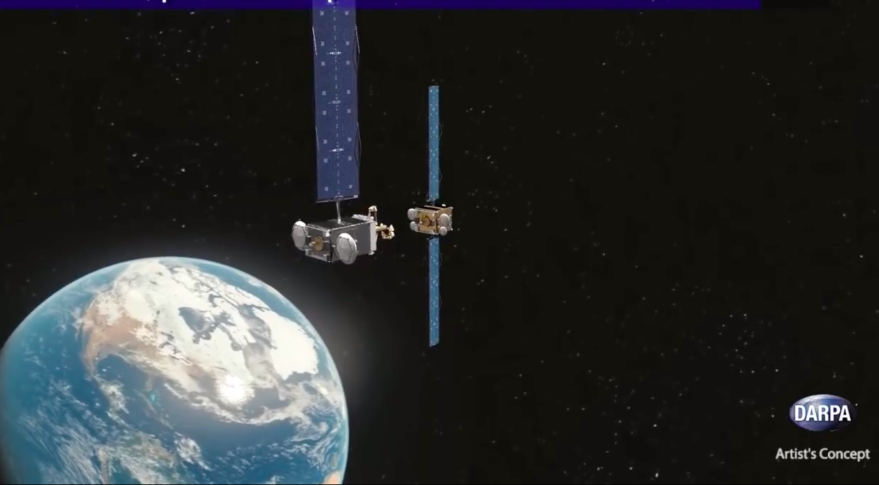 The Defense Advanced Research Projects Agency (DARPA) is considering proposals from potential new partners for its program to send a robot to space to repair satellites. DARPA suffered a major setback in January when Maxar withdrew from the project known as Robotic Servicing of Geosynchronous Satellites, or RSGS. Now the agency wants to give it one more try.
There are new players interested in partnering with DARPA, said Joe Parrish, the RSGS program manager. "It's fantastic that we have multiple entrants into the game," he told SpaceNews.
In the wake of Maxar's exit from the program, DARPA began a new search. RSGS started in 2016 as a public-private teaming arrangement where DARPA provided the satellite-servicing robot and a commercial partner paid to build the satellite and create an on-orbit servicing vehicle. Maxar was selected in 2017 but withdrew citing financial reasons.
DARPA invited interested contractors to a briefing in May and solicited new proposals, which were due July 23. The agency might select a new partner by the end of the year, Parrish said. But to avoid a repeat of what happened with Maxar, DARPA wants to make sure the bids are solid, he said. "DARPA is not obligated to make a selection," he said. "If we find one or more viable contenders, we will select one and initiate contract negotiations. We want to have a partner on contract, we hope, before the end of the year."
The overall program structure is still the same but some changes were made to the evaluation criteria, said Parrish, to "better address the business side of things. Some of that is lessons learned from the first substantiation."
"We are optimistic about our ability to find a new partner," said Parrish. The arrangement would be very similar to the one DARPA signed with Maxar, albeit with one major change: the commercial partner will be responsible to launch the RSGS vehicle into space. Under the previous effort, DARPA had agreed to arrange the launch through the Air Force in 2021. If a new partner is selected this year, a projected launch date would be late 2022 or early 2023.
If the project is successful, the commercial partner will be able to offer RSGS services for profit after DARPA completes the initial checkout phase. "All that is consistent with the way we always imagined the program," said Parrish.