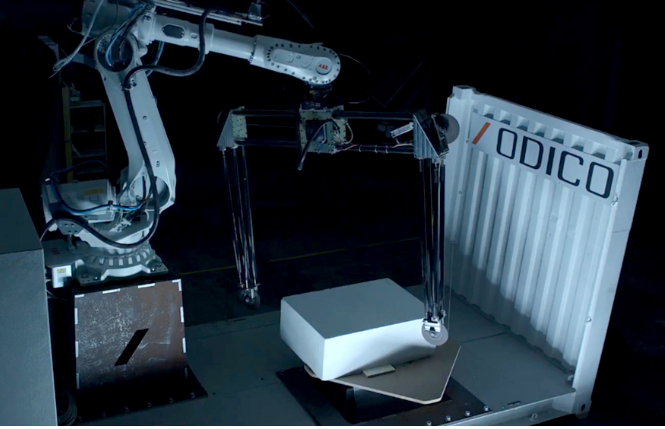 Denmark: Construction sites could soon include mini manufacturing units where robots custom-make building components at the push of a button – at least that's if Danish tech firm Odico has its way.
The robotics company went public on the Nasdaq First North stock exchange last month, in the process raising £3.6m of investment for its Factory-On-The-Fly concept.
The robotic system, currently a functional prototype, would be shipped to projects inside a standard shipping container then use locally sourced materials to custom-fabricate a range of products, including formwork, insulation, reinforcement or tiles.
Odico claims that automating these tasks on site will not only save on labor costs, it can avoid the delays associated with sourcing and shipping custom-made products from specialists.
"We want to solve one of the biggest manufacturing headaches in construction and create an easy process for making adaptations on the fly," says Asbjørn Søndergaard, chief technology officer at Odico.
"Using a tablet with a very simple graphical user interface, users will be able to customize the product they need – a recess aperture for a window, formwork for a staircase, or insulation, anything with dimensional variability where customization is needed – and with a press of the button the item is produced.
"The firm is currently finalizing the software and working to refine and certify the hardware and other processes. Units can be purchased, by main contractors, or specialists involved in prefabrication, for anything between £160,000 and £320,000, depending on the complexity of the hardware and processes involved in the specific application.
Factory-On-The-Fly is based on Odico's signature robotic manufacturing system, which is able to quickly produce formwork molds for concrete with complex double-curved geometries. Two robots dynamically bend a flexible heated blade, while a third robot moves a block of EPS foam through it.
"CNC milling is most commonly used today to create more advanced concrete formwork, but it can take up to four hours per square metre to produce high-quality surface," says Søndergaard. "Our hotwire cutting takes just two to three minutes per square metre and  enables a lot of design freedom at no extra cost because a robot is indifferent to whether it is cutting a curve or a straight line."
The system was recently used on a Zaha Hadid project in Dubai, to automate the production of 2,500 unique formwork pieces needed to cast the aluminum profiles for a double-curved glass facade on the Opus Dubai tower