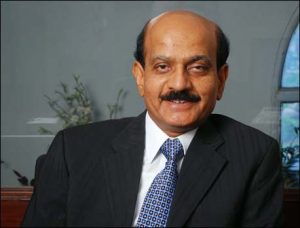 India: Mr. BVR Mohan Reddy, Founder and Executive Chairman of Cyient Ltd., and Former Chairman, NASSCOM, has been felicitated with the 'Pioneering Business Leader' Award at the 6th National BPM & Shared Services Conclave (SSF) held in New Delhi. The Award commendation includes 'IT Enabled Services'.
The Shared Services Forum, formed in 2011, honored Mr. BVR Mohan Reddy for his immense and invaluable contribution to shape the IT-BPM industry in India over the last 3 decades. Mr. Reddy – an entrepreneur, thought leader and industry leader – has taken up path breaking initiatives encompassing IT, IT Services and IT Enabled Services, and in particular, Engineering and R&D Services. He continues to remain a great source of inspiration to many leaders.
'Pioneering Business Leader' Awards are decided by the Jury Panel, consisting of senior leaders from the industry. The 2016 panel consisted of Jury Chair, V V Ranganathan – Co-Founder and Chairman Compassites, Ventures Inc (Former Senior Partner, Ernst& Young), Ram S Ramasundar – Managing Director, Blueriver Capital (Former Director of Operations, Pepsi and President and CFO, Ranbaxy) and T Chandrasekar, VP-Finance & CFO, IBM India/South-Asia.
On receiving this prestigious award, Mr. BVR Mohan Reddy said, "It is an honor to be felicitated with the prestigious award. I accept this award on behalf of the 13000 employees of Cyient Ltd. They have made a phenomenal effort for the last 25 years to bring us to where we are today. The Shared Services Forum over the last 6 editions has undertaken tremendous efforts to grow the BPM ecosystem, spurred by increasing participation every year. I wish them success in all of their endeavours."
Mr. BVR Mohan Reddy, a well-regarded industry veteran and entrepreneur, has recently been appointed as the Honorary Consul of the Federal Republic of Germany.  He has earlier been conferred with multiple awards including the prestigious American Society of Mechanical Engineers (ASME) Leadership Award in 2011. In 2012, he received the Corporate Excellence Award from the Indo-American Chamber of Commerce (IACC).
He has been felicitated as a "Distinguished Scientist" by JNTU, Hyderabad at the AP Science Congress in 2010, and a "Distinguished Alumnus" award by IIT, Kanpur in 2011. He also won the prestigious Lifetime Achievement Award in 2015 from the Hyderabad Management Association (HMA).
Mr. Reddy received an honorary Ph.D. degree from the Jawaharlal Nehru Technological University, Hyderabad; an honorary D. Sc. from the Andhra University, Vishakhapatnam; and Doctor of Science Honoris Causa from KL University (Koneru Lakshmaiah Education Foundation), Vaddesaram.