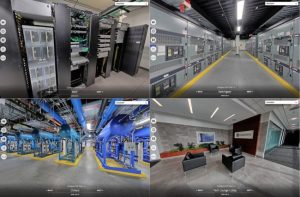 US: Concept3D, a leader in creating immersive online experiences with 3D modeling, virtual reality (VR), interactive maps and virtual tour software, announced that CoreSite has launched the Concept3D platform with a virtual tour of CoreSite's state-of-the-art data center campus in Reston, Virginia.
The Concept3D platform is an all-in-one software solution for data centers and other large facilities looking for an efficient and effective way to highlight their facilities and take people – located anywhere in the world on desktop or mobile device – into the facility virtually. Using the Concept3D platform is easy and tours can be edited at any time with new stops, 360-degree panoramic images, information about the facility, surroundings, and links to more information, and contact forms.
CoreSite's Reston campus currently includes three facilities: VA1, VA2, and VA3. Upon full build, the Reston campus will offer over a million square feet of data center colocation space, or approximately 100 megawatts of capacity. CoreSite selected the Concept3D platform to showcase its secure, high-performance facility features, as well as interconnectivity highlights, such as native access to networks and cloud services including AWS Direct Connect, Microsoft Azure ExpressRoute, Alibaba Cloud and IBM Cloud Direct Link.
"The CoreSite team has done a fantastic job of building out its virtual tour using the Concept3D platform," said Robert Johnson, Vice President of Sales, Concept3D. "CoreSite benefits from virtual tours as the technology enables it to give prospective customers an immersive, first-hand experience of its facilities and technology. Virtual tours can be used for existing facilities like CoreSite's VA2, as well as for sites under development to enable the sales and marketing teams to accelerate the sales process."
"We are excited to launch the virtual tour, it will be instrumental in driving sales conversations and providing content for marketing campaigns," said Brenda Van der Steen, Vice President of Marketing at CoreSite. "The virtual tour can also serve our training needs, giving employees and partners a way to explore a facility remotely."