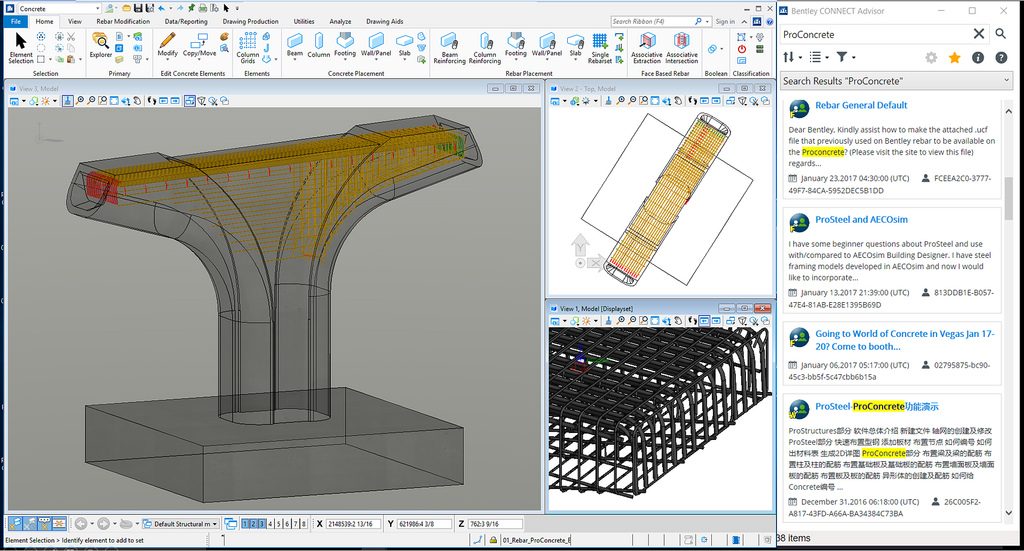 US: Bentley Systems announces the general access of the ProStructures CONNECT Edition structural detailing application, which now incorporates the capabilities of the ProSteel and ProConcrete applications. The release also features interoperability with Bentley's reality modeling capabilities, which will allow users to incorporate real-world conditions in their modeling throughout the design and construction lifecycle.
ProStructures CONNECT Edition includes a streamlined user interface and includes these new capabilities:
Functional Components – Easily create libraries of parametric structural shapes for both reinforced concrete and structural steel by applying user-defined variables and equations. Drag and drop existing components from a library that allows editing to specification to reduce time and eliminate errors associated with manual input.
ComponentCenter – Easily access structural components for use in design. Integrate with the ComponentCenter as a source of content for rebar couplers, terminators, and form savers.
Documentation Center – Automated production of high-quality drawings, including multi-discipline documentation sets, which are consistent across the entire project. Get a live view of the project in sheet orientation. As the design changes, so will the sheets. Create, publish, and share project deliverables across multiple disciplines. Quickly identify structural steel or reinforced concrete in the model by using any attribute such as member length or rebar size.
User Interface – New and improved user interface allows for ease of use, access to learning content, and project sharing. Ribbons help users to easily find commands with a minimum number of clicks.
Increased Performance – Access more addressable memory with 64-bit computing. Increase efficiencies in editing larger design models, and processing more complex Adobe PDF documents and iModels.
CONNECT Advisor – Receive personalized support and learning without leaving the product experience. Interact with various Bentley content in one location, eliminating the need to browse to various sources individually in a unified interface.
Commenting on ProStructures, Shixiao Zhao, chief engineer for China Construction First Building (Group) Co., Ltd., said, "After using ProStructures, the design time was reduced to one-and-a-half months, and the design error rate was reduced by 70 percent."
James Barr, director of business execution, Bentley Systems, said, "ProStructures CONNECT Edition will radically change the way engineers create steel and reinforced concrete structural details and fabrication drawings. Something that was so manual such as drawing a beam and then reinforcing it, will now be as easy as dragging and dropping existing components that are already reinforced and then editing them to specification. This and other great features included in ProStructures CONNECT Edition, including a new user interface, access to personalized learning, and the ability to share data across multiple disciplines, greatly improves productivity and reduces time."