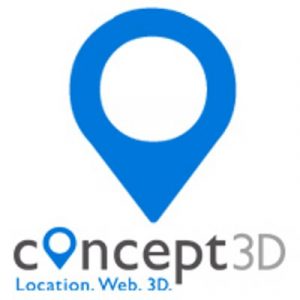 US: Concept3D, a leader in bringing physical spaces, assets and data into the digital world through 3D modeling, virtual reality (VR), interactive maps and immersive virtual tour software, today announced that it has become an OSIsoft partner with the new capability of integrating and displaying operational data from OSIsoft's PI System.
With digital transformation top-of-mind, more companies are seeking ways to visualize and present operational data in an intuitive and visual format, particularly when tied to physical locations such as plants, manufacturing facilities and locations that require remote monitoring. The Concept3D platform is ideally suited as a visual hub for data and information, presenting it in an interactive, 3D map format and giving staff and connected partners – located anywhere in the world – the ability to access and visualize data, and rapidly move from location to location.
"The power of the Concept3D platform is intuitive data access and visualization, and we're extremely excited to be able to now offer integration with OSIsoft's PI System," said Robert Johnson, VP of Business Development, Concept3D. "The PI System is well-known as the standard in making operational data usable and accessible to industrial companies, and the integration makes it possible to add a visual, geographic element to complement PI System data."
The PI System captures and organizes the massive amounts of operational data from equipment—sensors, power supplies, manufacturing tools, turbines, enabled configurable streaming analytics, and serves it up in a coherent way so people can improve production, save money, improve safety or implement an analytics program. The PI System makes operational data and associated analytics accessible, usable, and valuable, with the ultimate goal of operational intelligence and the ability to make informed business decisions from the plant floor to the boardroom. The system is licensed in 65 percent of the Fortune 500 industrial companies and captures data from 1.5 billion sensors at more than 19,000 sites across 127 countries.
OSIsoft serves nine primary markets: oil and gas; utilities; pharmaceuticals, food and beverage; metals and mining; pulp and paper; and chemicals, with expansion happening in transportation (railroads, light rail, shipping, car fleets), facilities, data centers, and discrete manufacturing.
"It will be exciting to see how the Concept3D platform gives PI System clients a highly visual, geographic way to access and view their data," said Craig Harclerode, Industry Principal, Oil and Gas, OSIsoft. "There's a lot of potential here and Concept3D has built a unique and powerful system for operational data integration, normalization, analytics, and visualization."
Concept3D clients include data centers, convention centers and event venues, universities, resorts and hospitality, healthcare, and retirement communities, among others.