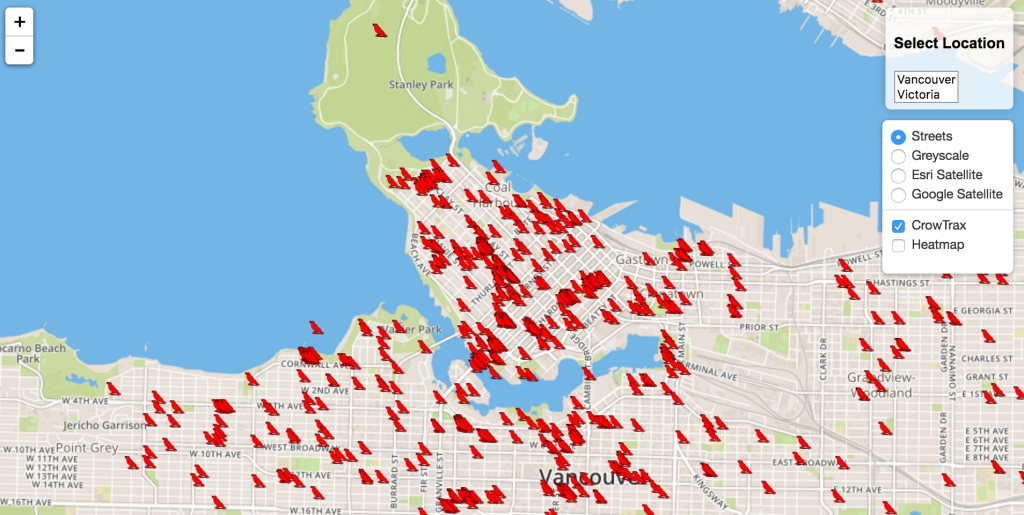 Canada: Jim O'Leary and his colleague, Rick Davidson, are using OpenStreetMap to create an online map portal called CrowTrax that will allow anyone with an internet connection to pinpoint where they were attacked. Not just that, people can also add details, such as how aggressive the bird was.
Jim O'Leary, who teaches Geographic Information Systems at the Langara College, Vancouver, says they wanted to show how the course content could be put to use. He says, he was inspired to start tracking crow attacks after witnessing several in downtown Vancouver last year and thinking that recording them could help better understand the problem.
The birds are particularly aggressive during the spring, when they are protecting their nests. Hundreds of attacks have been documented on the map since it launched in April, including reports from Victoria and Antigonish, N.S.
Mapping the attacks helps establish where the most aggressive crows are and gives an idea of whether there are any patterns, O'Leary says. "With all our technology skills, we shouldn't be run off the street by the crows. So this is our response," he says. "The first part of a solution is to find out what a problem is."
So far, there have been dozens of attacks reported in downtown Vancouver, and O'Leary says he believes there are more crows in the area because of the concentration of garbage cans and tall trees.
Source: 680News