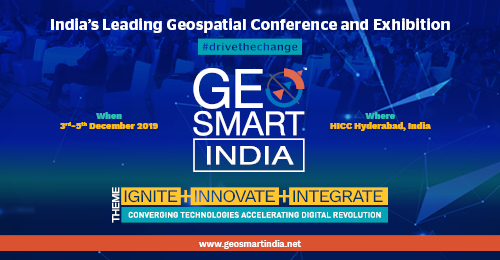 India: Geospatial Media and Communications has announced that Survey of India is now the co-organizer for the 20th Edition of GeoSmart India scheduled from 3rd – 5th December 2019 at Hyderabad International Convention Centre, Hyderabad, India.
Striving to keep abreast of modern technology, Survey of India has successfully entered the era of geospatial mapping. Always living up to its motto of 'Aa Setu Himachalam', Survey of India is built on strong foundation which toils to adopt the latest trends in technologies to meet new challenges and therefore it is considered to beamongst the best surveyed countries in the world.
Lt General Girish Kumar, VSM, Surveyor General of India stated, "Survey of India is now focused on strengthening the key elements of geospatial infrastructure i.e. Geodetic infrastructure with development of Geoid Model and CORS Network; fundamental geospatial data infrastructure with new SDMS based Topographic database to facilitate the integration with other datasets and is providing key inputs to concerned in evolving geospatial policy framework in the country. SoI is ceaselessly and unobtrusively strive to produce the data and maps so essential for development and security needs of the country."
"We're glad to have Survey of India as co-organizer and support the platform and connect with various geospatial user segment," says Anamika Das, Vice President, Outreach & Business Development at Geospatial Media and Communications.