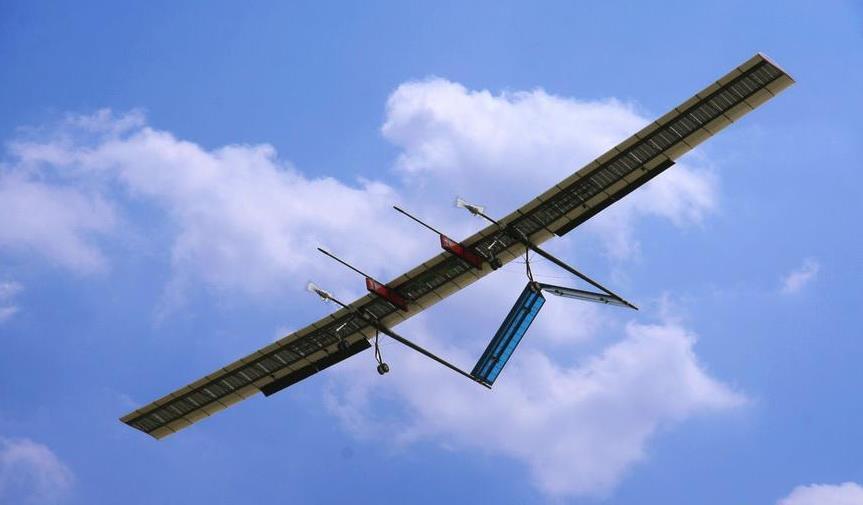 China: Chinese aviation researchers are developing solar-powered drones that would be capable of staying airborne for at least a month, a senior designer informed.
Shi Wen, head of unmanned aircraft development at the China Academy of Aerospace Aerodynamics, said in an exclusive interview that his team has developed prototypes to demonstrate new technologies and equipment.
Last week, his team conducted the maiden flight of a giant solar-powered drone at an airport in northwestern China. Shi said the 14-meter-long drone has a 45-meter wing span, longer than a Boeing 737, and can carry a payload of 20 kilograms.
He said mass-produced models will eventually be able to fly for one to six months, and added: "We plan to make one that can stay in the air for five years. Our next-generation drones will have a 60- to 70-meter wing span and will be able to carry a payload of at least 50 kg."
Scale models of the solar-powered drone as well as advanced combat drones developed by the academy will go on show at the 11th China International Aviation and Aerospace Exhibition, commonly known as the Zhuhai Air Show, on Nov 1.
The academy began to research drones in 2002 and conducted its first test flight three years later, according to Shi, who said its engineers have gone on to develop advanced aerodynamic designs, ultralight frames, flight control systems and high-quality solar cells.
Scientists are continuing work to improve batteries and motors, he said, adding that China is already a top maker of solar-powered drones, second only to the United States.
The academy, part of China Aerospace Science and Technology Corp, is one of the country's largest military drone developers. Shi said its CH series has been sold to 20 military buyers in more than 10 countries.
Solar-powered drones can fly at altitudes of 20 to 30 kilometers for a long time, which means they can be used as "atmospheric satellites" to provide services conventionally dominated by satellites in space, Shi said.