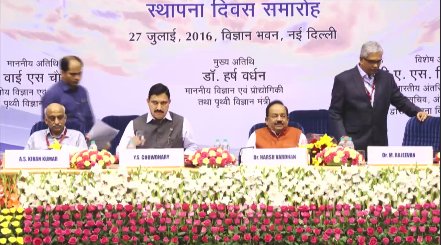 New Delhi: The Ministry of Earth Sciences celebrated the 10th anniversary and Foundation Day on 27th July 2016.
The Union Minister for Science & Technology and Earth Sciences, Dr. Harsh Vardhan released the Vision and Strategy Document for next 15 years (up to 2030) at the Foundation Day function at Vigyan Bhawan in New Delhi.

The vision report envisage that there is a considerable scope for further accelerating the Earth System Sciences initiatives to enable the country to become a world leader in providing high quality services, and contribute to economic and societal benefits. India can be a leader in providing all possible services in Earth Sciences to developing countries in Asia and Africa.
The Union Minister said, "In next few years we aspire to bring up a model which will give all metrological updates at every block level or 12 kms distance, which will benefit the common people specially the farmers at large." He also mentioned, "Our tsunami system is one of the most advanced in the world."
The efforts in the field of ocean science and seismology were also highlighted.
The Minister of State for Science & Technology and Earth Sciences, Shri Y. S. Chowdary in his address on the occasion highlighted the achievements of the Ministry and congratulated the Scientists for the outstanding work. 
The Foundation Day lecture was given by Shri A.S. Kiran Kumar, Chairman, ISRO.