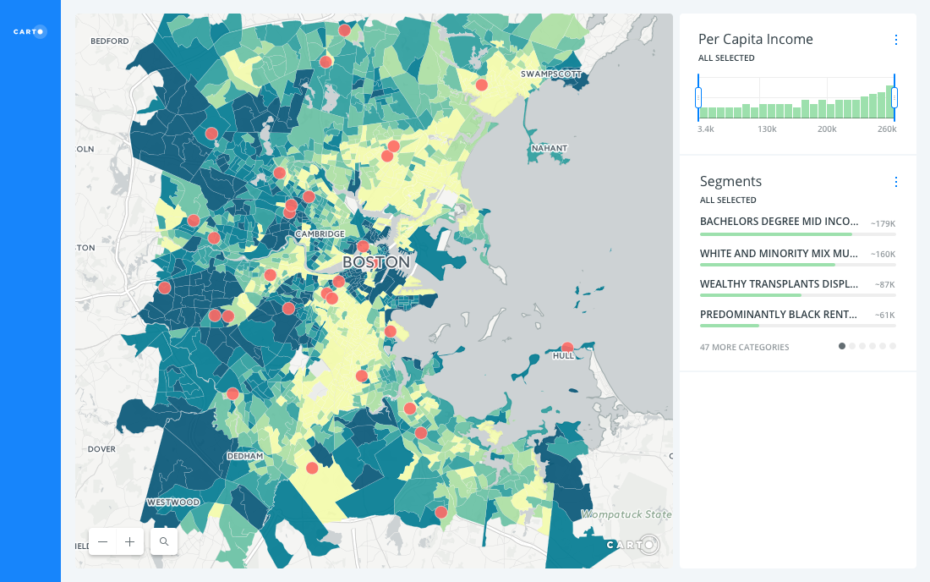 US: CartoDB announced the release of CARTO BUILDER, a self-service, super sleek tool to perform spatial analysis and create Location Intelligence applications. It is targeted towards data analysts and business users inside organizations and also expected to open up Location Analytics to an entirely new audience.
With this new release, the company also renamed itself as CARTO, removing the 'DB' (database), as it won't serve developers alone anymore but will further connect with its non-developers audience.
CARTO Builder is a web-based drag and drop analysis tool for analysts and business users to discover and predict key insights from location data.  It introduces a new visual language to perform spatial analysis without the need for coding skills. The CARTO Builder adds analysis widgets that modify the results in real-time. Users are able to relate to data based on location, predict where things will happen, understand where they matter the most, and overall, uncover insights using Location Intelligence. This all will be done without the need for developers to create spatial applications.
Location Intelligence was originally accessible to key experts or data scientists within organizations. Key companies like Google, Uber, or Apple have entire data scientist teams dedicated to Location Intelligence, but for most organizations, benefiting from location data is difficult and requires custom development projects to enable the organization. With the launch of CARTO Builder the scenario will be totally changed.
"We have seen Location Intelligence's power to optimize and predict key insights at many organizations; we are now making this core technology available though a new visual language with no coding skills needed to open up the space for an entire new audience," said Sergio Alvarez, Chief Product officer at CARTO.