Kongsberg Geospatial, an Ottawa-based developer of real-time, mission critical, geospatial visualisation software, and CarteNav Solutions, a leading provider of situational awareness solutions for the maritime, land, and air environments, have announced their TerraLens platform has been selected by CarteNav to provide geospatial capabilities for its new generation of CarteNav's mission system software called AIMS.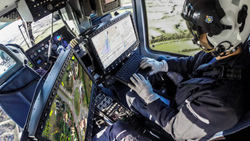 Kongsberg Geospatial has been providing real-time geospatial and spatial awareness technology to support air traffic management (ATM), maritime, land, underwater and air applications for nearly three decades. Their TerraLens® platform powers a diverse range of mission-critical solutions in over 50 countries.
CarteNav Solutions Inc. is an international leader in mission management and sensor management software solutions for airborne, land and maritime environments. CarteNav offers operationally proven software that drastically improves the performance of both sensor operators and tactical decision makers on a wide variety of platforms and has a client base that includes government, military, and commercial customers spanning more than 40 countries.
"CarteNav delivers leading software solutions for ISR Mission Management and sensor integration. By using TerraLens, we expect to be able to offer even better performance capabilities in the next generation of our AIMS software products. We selected the TerraLens Platform based on the quality of their product, their track record, and their on-site support," said Paul Evans, president of CarteNav Solutions.
About Kongsberg Geospatial
Based in Ottawa, Canada, Kongsberg Geospatial creates precision real-time software for mapping, geospatial visualization, and situational awareness. The Company's products are primarily deployed in solutions for air-traffic control, Command and Control, and air defense. Over nearly three decades of providing dependable performance under extreme conditions, Kongsberg Geospatial has become the leading geospatial technology provider for mission-critical applications where lives are on the line. Kongsberg Geospatial is a subsidiary of Kongsberg Defence Systems.
About CarteNav Solutions
CarteNav is an ISO 9001:2015-certified company headquartered in Halifax, Nova Scotia, Canada. From its founding in August 2002, CarteNav has become a recognized leader in mission system software that enhances situational awareness and improves mission effectiveness on airborne, land-based, and maritime platforms. The software is operational on civil, government, military, and paramilitary deployments in over 40 countries across 6 continents. Following its acquisition in 2016, CarteNav is now a wholly-owned subsidiary of Provincial Aerospace Ltd. and is part of the Exchange Income Corporation (EIC) group of companies