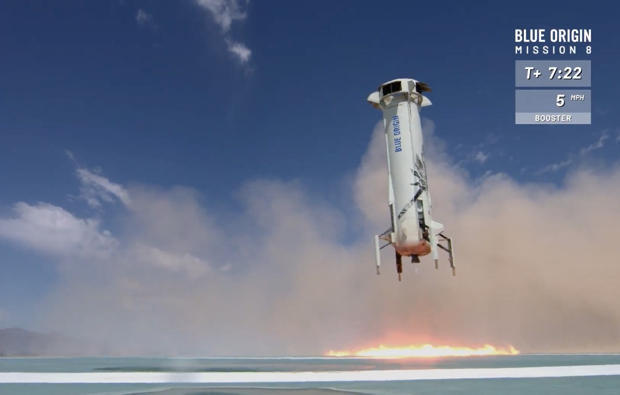 US: New Shepard flew again for the eighth time on April 29, 2018, from Blue Origin's West Texas Launch Site. Known as Mission 8 (M8), the mission featured a reflight of the vehicle flown on Mission 7. The Crew Capsule reached an apogee of 351,000 feet (66 miles, 107 kilometers) – the altitude the company has been targeting for operations.
Perched atop a reusable booster powered by a single hydrogen-fueled BE-3 engine, the New Shepard spacecraft blasted off from the company's Van Horn, Texas, test facility at 1:06 p.m. EDT (GMT-4) and smoothly climbed away, generating 110,000 pounds of thrust and trailing a brilliant jet of flame.
Designed to carry up to six "space tourists" to altitudes above 62 miles, the unmanned New Shepard capsule separated from its booster at an altitude of about 47 miles.
For the second time, Blue Origin's test dummy "Mannequin Skywalker" flew to space conducting astronaut telemetry and science studies. The flight also carried research payloads for NASA, the German Aerospace Center (DLR), and commercial customers.
Some of the payload customers that are flying with on Mission 8:
Suborbital Flight Experiment Monitor-2 (SFEM-2)
NASA Johnson Space Center (Houston, Texas)
NASA's Suborbital Flight Experiment Monitor-2, or SFEM-2, was designed to characterize payload test environments in support of the NASA Flight Opportunities program and other payload initiatives. The sensor suite collects cabin environmental data (CO2, pressure, acceleration, acoustics) and also tests components for future flights on NASA's Orion capsule.
Schmitt Space Communicator (SC-1x)
The Schmitt Space Communicator, named after Solstar advisor and Apollo 17 astronaut Harrison "Jack" Schmitt, is a technology demo to test the concept of providing commercial Wi-Fi access to in-space users. This flight test is being conducted with support from NASA's Flight Opportunities Program.