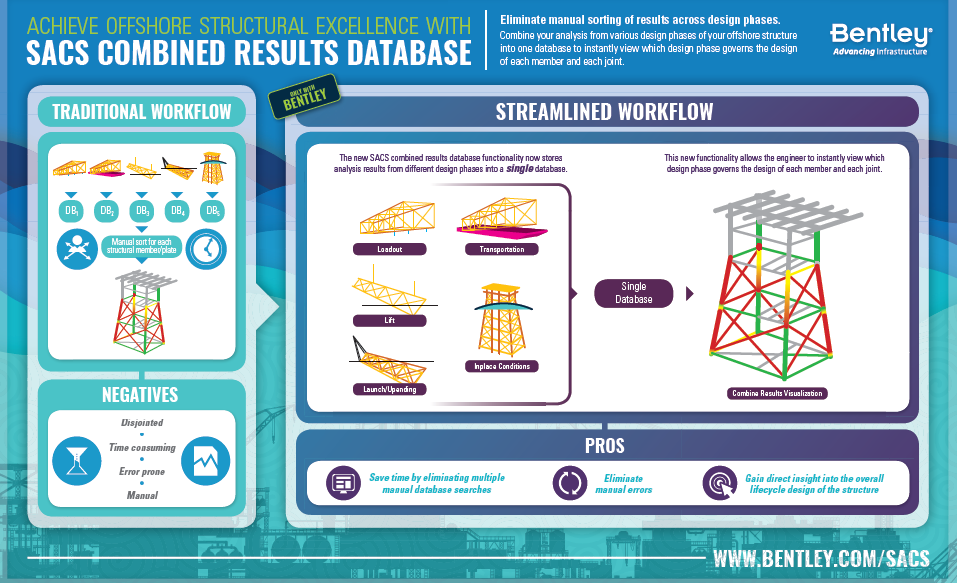 Bentley Systems announces enhancements to its latest release of SACS CONNECT Edition, an offshore structural analysis application that offers fully automated and integrated 3D modeling, analysis and design to efficiently manage large, complex models for the evolving digitalization in the offshore market.
This new release of SACS includes capabilities that help eliminate disjointed workflows and data, enhances interoperability with other applications, ensures safe structural performance during extreme events, and removes the need for a separate finite element analysis (FEA) application. Also, with extended analytical cloud services for SACS Wind Turbine, engineers can perform multiple wind turbine structural analyses in parallel in minutes rather than days.
Bentley's SACS CONNECT Edition now offers:
A unique, combined results database that saves time and eliminates disjointed workflows by combining the results of multiple design phases from independent analyses into a single unified visualization to enable holistic interrogation and design review across all phases simultaneously. (See infographic  and related video)
A new, advanced collapse solver for non-linear analysis and design, which ensures more realistic structural performance during extreme events, such as hurricanes, and allows for more accurate predictions in regard to lateral torsional buckling. (See related video)
Joint meshing and automatic stress concentration factor (SCF) extraction to speed up non-tubular fatigue joint design. With this new FEA in SACS, users no longer need a separate FEA application, such as ANSYS. This all-in-one application saves a tremendous amount of time, money, and eliminates the need for multiple software application investments. (See related video)
Intra-operability between SACS – AutoPIPE delivers shorter design cycles and up to 90 percent reduction in project non-conformances now using Bentley's ISM technology. This replaces traditional manual methods by electronically transferring pipe support loads to the structural model and integrated structural – piping models for more accurate design loading and engineering collaboration (See related Tech Talk video)
Analytical cloud services for SACS Wind Turbine that leverage the power of high-performance parallel computing on the cloud so that wind turbine structural analysis can be performed in minutes rather than days. This enables faster, more robust analysis of turbine structures subject to wind and wave loading. It also allows engineers to consider thousands of loading scenarios to find the optimal design.
Wilson John, structural integrity engineer with Zakum Development Company said, "SACS software, and its tailor-made enhancements, is a very useful tool for structural integrity engineers where a quick workable solution is required in the shortest possible time."
Raoul Karp, VP of Design Engineering Analysis with Bentley Systems, said, "SACS CONNECT Edition V12 is the most significant release we have made in years. The challenging oil market has forced the industry to seek ever more productive and cost-effective workflows and explore new complementary business opportunities. SACS V12 offers industry leading enhancements in improved workflow productivity, all-in-one advanced analysis capabilities, and cloud solutions to democratize access to comprehensive offshore wind turbine capabilities. More than ever our users can rely on SACS as the most comprehensive offshore structural analysis application to increase their efficiency, save time, and deliver safe projects on-time and on-budget."