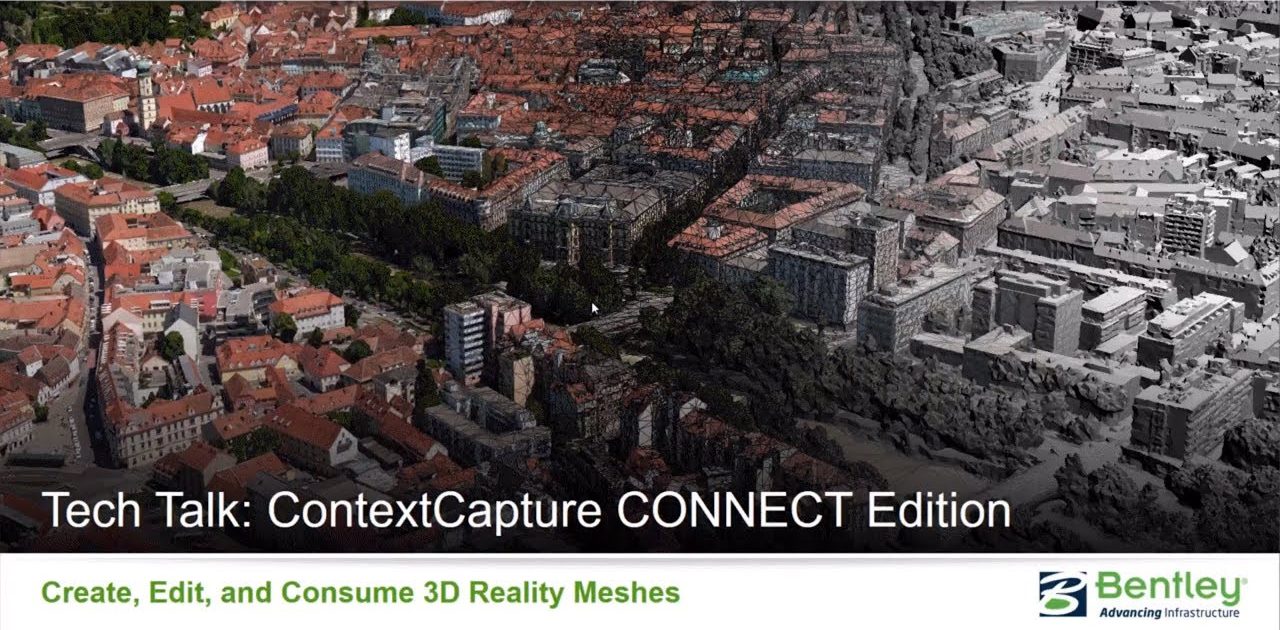 UK: Bentley Systems announces the general access of ContextCapture CONNECT Edition – reality modeling software that quickly produces highly detailed 3D engineering ready reality meshes of existing conditions for infrastructure projects of all types. Reality meshes are derived from simple photographs or point clouds and provide precise real-world context for design, construction, and operational decisions throughout the lifecycle of infrastructure. ContextCapture is the reality modeling solution for a complete capture-to-consumption workflow.
For more controlled and automated data acquisition, ContextCapture now offers a QR code framework to capture Ground Control points. This new capability streamlines the process by automatically finding ground control points in a scene leveraging QR codes carefully placed at known locations prior to capturing images. The same QR code functionality can also be used to link the reality mesh objects to an asset registry by identifying and locating objects in the scene. 3D spatial registration of assets requires only the placement of QR code tags on the assets before performing the photo acquisition. Additionally, the new 3D resolution mesh in ContextCapture features quality control and reporting that documents the resulting resolution of any location on the 3D reality mesh. This makes analyzing the quality of the capture and of the reconstruction more efficient, by providing direct visual feedback at any point of the scene.
ContextCapture CONNECT Edition offers up to 30 percent faster processing time with more robust and parallelized aerotriangulation, as well as faster multi-GPU support, to generate 3D reality meshes of virtually any size or precision much faster and with less processing time than previously possible. The global color equalization in ContextCapture significantly enriches the visual quality of 3D models.
To support the virtual inspection of critical assets, ContextCapture now offers thermal imagery support for mesh textures that enables quick identification of leaks or other asset abnormalities.
To increase team productivity and collaboration, ContextCapture is now integrated with ProjectWise ContextShare, a new cloud service that extends Bentley's connected data environment. Reality meshes can be securely uploaded to ProjectWise ContextShare and then streamed to ProjectWise users for use in design, analytical, and construction modeling workflows. This high-performance cloud service makes the use of very large reality meshes as context for engineering and geospatial work practical.
Mingming Li, technical director, registered surveyor, Shanghai IFA Technology, said, "Bentley ContextCapture reality modeling software has changed our traditional manual 3D modeling approach. It makes data acquisition simpler and more efficient, and has fully automated data production to save 80 percent of our time and 60 percent of our cost for the 3D VR reality application project of our ancient city. The model produced by ContextCapture can be seamlessly connected with other pieces of Bentley software, avoiding the risks associated with data conversion."
Phil Christensen, Bentley senior vice president, reality modeling, said, "ContextCapture CONNECT Edition continues to streamline the capture-to-consumption reality modeling workflow to help expand the scope of value for surveying and engineering organizations during all phases of an asset lifecycle."