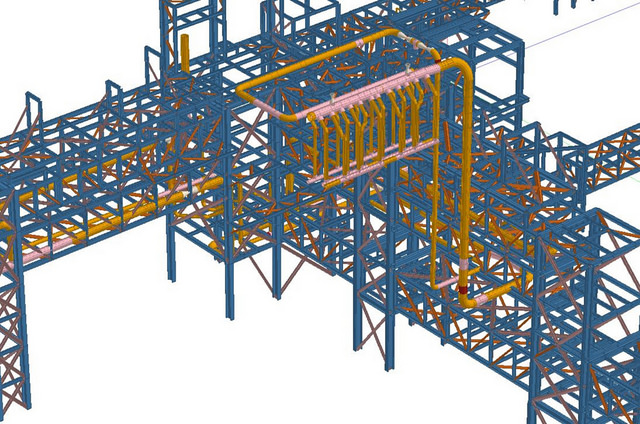 US: Engineering analysis for complex structural, piping and hydrodynamic systems requires expert input from distinct collaborating design teams. Many project teams rely on paper documents and manual data transfer to collaborate. It is not uncommon for design teams located in the same building to operate in silos. This disconnected workflow model tends to be error-prone, result in time lags, and discourage iteration, as the information is packaged, delivered, interpreted, and entered into distinctly managed systems. The lack of coordination among engineers often leads to project inefficiencies, design mistakes, and in some instances, costly operational failures. These workflows also do not support the real-time collaboration that is necessary for engineering innovation.
The common modeling environment that underpins Bentley's analysis offering is changing this paradigm, paving the way for true collaboration, as several Be Inspired Awards submissions this year demonstrate, with new integrated, analytical workflows delivering significant and real ROI.
TOYO Engineering – used STAAD and STAAD Advanced Concrete Design to engineer the structure for a very complex ethylene plant in Malaysia. Spanning teams within the Toyo group across multiple locations, the project was the first to apply advanced engineering design codes in the country, with the team developing new EN codes for Malaysia. The combination of STAAD and STAAD Advanced Concrete Design enabled Toyo Engineering to reduce engineering hours by 30 percent and construction hours by 10 percent.
Ajay Marathe, Lead Engineer – Civil & Structural, Toyo Engineering, said "Seamless integration of STAAD.Pro and STAAD Advanced Concrete Design has completely turned around the detailed engineering of RCC structures delivering automation, accuracy, and consistency. Iterative and complex design checks are possible with a single run synchronizing the delivery of drawings resulting in a 30 percent reduction in man-hours."
CS Softdesk – the Żuchlów' natural gas field in Poland is the largest deposit of natural gas in the area and since the compressor station started production in 1979, it has been subjected to many modifications and extensions. To reduce the vibrations during installation (which were causing significant noise and accelerating component wear) a comprehensive redesign and reconstruction was required. CS Softdesk was brought in to search for the causes of vibrations and come up with a design that minimized these vibrations. Using AutoPLANT, AutoPIPE, and PULS, CS Softdesk carried out a dynamic, iterative analysis and design of the piping network, and produced an innovative design to solve the problem. The seamless interoperability of the Bentley applications not only enabled CS Softdesk to create an innovative solution, it allowed the company to use half the resource hours compared to working with other engineering analysis systems.
"Bentley applications allow us to preserve a multi-discipline approach in our design processes, and, at the same time, maintain a unique and specialized approach. The software allows for the engineering analyses to be performed at the scientific research level, provided that the applied method is implemented properly by knowledgeable staff." added Maciej Rydlewicz, Ph.D. Eng., CEO Research & Development, CS Softdesk
PetroVietnam Marine Shipyard – in Vũng Tàu, Vietnam PV Shipyard was retained to build the Tam Dao 05 Jack Up rig, which can operate at a depth of 120 meters and can drill to a depth of 9,000 meters. It used SACS for offshore structural analysis and design, MOSES for transportation and installation analysis, with AutoPIPE and ProjectWise to synchronize data and detect clashes. After 32 months of design and construction, PV Shipyard cut the expected transport and installation schedule by 50 percent.
Phan Thanh Son, Engineering Manager, PetroVietnam Marine Shipyard, said "ProjectWise gave us the ability to coordinate over 3 million documents totaling 5 terabytes of data to give 500 participants the latest controlled information on which to base confident action. The repository provides the base of documents for ongoing asset management. The combination of SACS, MOSES, and ProjectWise enabled us to design, transport, and install a state-of-the-art jack-up rig, that increased drilling productivity for the owner and cut the expected delivery time in half."
Shanghai Design Branch, China Offshore Oil Engineering Co., Ltd. – for this extension project in the Bohai Bay oil field complex off the coast of China, Shanghai Design used both SACS and MOSES to quickly design the jacket and carry out the installation analysis, reducing overall project time by four weeks and saving 30 percent in engineering design hours.
"Bentley SACS and MOSES software are essential tools for fixed offshore structural design," said Yin Guangrong, Structural Engineer, Shanghai Design Branch, Offshore Oil Engineering Co., Ltd.