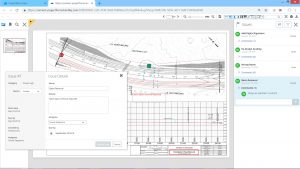 UK: Bentley Systems, Incorporated announced the general availability of an integration between ProjectWise 365 Services and Microsoft 365. The collaboration capabilities of Microsoft Teams and Microsoft Flow, alongside analytics from Microsoft SharePoint and Microsoft Power BI, can now be applied to mainstream automated digital workflows within ProjectWise. The integration will enable collaborative digital workflows that transcend system boundaries throughout infrastructure capital project delivery, ensuring standards and best practices are propagated across projects, and increasing repeatability, scalability, quality, and predictability—in effect, industrializing project delivery, so that project teams can widely replicate their best projects' successes.
Neil Lee, IT Director – Applications, Mott MacDonald, said, "The integration of ProjectWise and Microsoft Office 365 will be a significant enabler for our ongoing digital strategy for project delivery. Our evaluation of the integration capability against the typical demands of our project teams demonstrated that Bentley and Microsoft are fulfilling the vision of enabling more seamless and automated digital workflows for project teams to access project information residing in either Office 365 or ProjectWise. Our project teams will be enabled to drive improved project outcomes with more streamlined collaboration that enables faster and more informed decisions."
ProjectWise 365 Services also embrace every project stakeholder, connected through Microsoft's Azure cloud service and Bentley's new integrated web-based PDF review and markup. Bentley's Azure-based Connected Data Environment (CDE) uniquely enables digital workflows to reach throughout the project and asset lifecycle. Now every level of the extended team can have assured and secure access to the correct and current project deliverables—including for collaboration through automated digital workflows.
ProjectWise 365 Services include ProjectWise Project Insights, enabling proactive project management with automated "right-time" project status dashboards that help identify trends and potential issues early to mitigate risks. Project Insights deliver rich and actionable project execution insights, and leveraging Microsoft Power BI, users can combine design status with financial, schedule, and other project information for a comprehensive view of project performance.
AECOM, a premier, fully integrated global infrastructure firm, is an early adopter of ProjectWise 365 across its enterprise. Norris Spencer, Highways Information Manager, AECOM, said, "ProjectWise Project Insights is delivering a new perspective to leadership and project management as the dashboards provide unique views of information management practices and Building Information Model health across the CDE." Elizabeth Berna, Information Manager, AECOM, added, "Our project managers also use the dashboards to identify trends in project performance providing the client with new ways of assessing project health."
Noah Eckhouse, senior vice president of Project Delivery, Bentley Systems, said, "We thank the early adopters of ProjectWise 365 Services for their guidance and feedback. This integration with Microsoft 365 brings automated digital workflows to the extended project team and will help users replicate best practices across a team's projects. And significantly, now ProjectWise users can add Bentley's new Azure-based iTwin™ Services, taking advantage of automated digital workflows within ProjectWise to align and synchronize project digital twins for continuous and comprehensive status reviews."
Ron Markezich, corporate vice president, Microsoft Office 365 Commercial, Microsoft Corp., said, "The extended integration between ProjectWise and Microsoft Office 365 helps project delivery organizations in going digital, empowering their organizations to improve project productivity and deliver better outcomes."
At Microsoft Inspire 2018, Microsoft's annual conference for its partner community, Bentley Systems was awarded as Microsoft's "2018 CityNext Partner of the Year." Bentley's
SYNCHRO 4D construction modeling software was featured in the Mixed Reality and the Cloud session. With SYNCHRO's digital workflows, constructors don't need to recreate 3D construction models from scratch, which would have orphaned the BIM models created during design. ProjectWise, with Teams and Flow, will automate digital workflows for construction planning to leverage the BIM intelligence. This immersive environment for visibility into the path and sequence of construction completes the reach for project delivery. Microsoft and Bentley are working together on further HoloLens applications for ProjectWise and SYNCHRO to be introduced later in the year