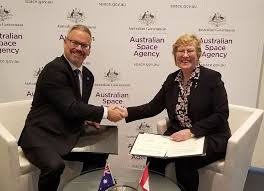 Australia: Australian space agency has signed two agreements with the space agencies of Canada and the United Kingdom.
The Memorandums of Understanding (MoUs) were signed between the Australian Space Agency, the Canadian Space Agency, and the United Kingdom Space Agency, and the deal would assist the nations develop their respective space programs and help transform the industry.
"Forging international partnerships is vital to building Australia's space industry and ensuring our businesses can compete on the world stage," Minister for Industry, Science and Technology Karen Andrews said Wednesday.
"These agreements with counterpart space agencies in Canada and the United Kingdom will increase opportunities to work together and share information, technology, and personnel between our nations."
The signing of the new MoUs took place at the International Astronautical Congress (IAC) being held in Bremen, Germany. The IAC is an annual meeting of international space agencies and industry.