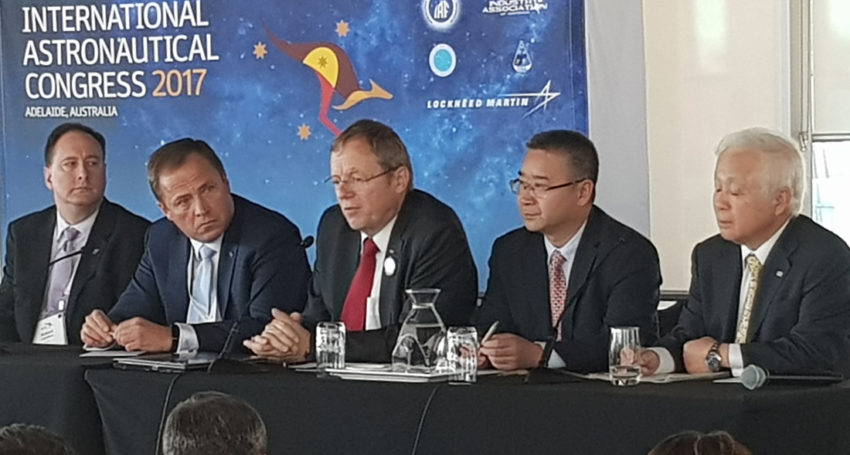 Australia: The long awaited announcement to open the National Space Agency of Australia finally came on Monday from the floor of the International Astronautical Congress in Adelaide. The announcement was made by the South Australian senator Simon Birmingham, who has been lobbying for it with the Space Industry Association of Australia and the South Australian Government.
Senator Birmingham said, "This agency will be the anchor for the domestic coordination and the front door for our international engagement for so many of you from across the world's space industries." He added, "I am confident that with our unique geography, South Australia will naturally be at the forefront of an increased Australian engagement in space industries.
Australia is one of the only OECD countries without a national space agency. Space Industry Association of Australia (SIAA) Chair Michael Davis said the SIAA was thrilled with the announcement and expected the agency would promote collaboration between government and industry.
Earlier in March, the SIAA had launched a White Paper asking the Australian Government to establish a national space agency. Senator Birmingham said Acting Minister for Innovation and Science Senator Michaelia Cash would outline further details of the national at a congress lunch tomorrow.
"The aim is to deliver clear economic benefit to the Australian economy and of course, to re-enforce our status as a participant of long-standing in the development of outer space."
"We will soon take our place at the table of space agencies as major initiatives and cooperative projects are considered and developed.
"Australia has always played a significant role, but we have fallen behind the major nations, especially the European ones and now we can quickly play catch up in this USD 330 billion industry.
"Space is too large, too complex, too important for any one country to seek to do it alone and this congress presents yet another outstanding opportunity to share insights into the future of the global space industry."
"The global space sector was growing fast and Australia needed to be a part of it," he said.
"We have listened to the industry and the overwhelming response to our Review has been support for a space agency."
Praising the decision of the Australian government, NASA's Acting Administrator Robert Lightfoot said, "From a NASA perpective we've had a great partnership with Australia for a long time and I look forward to seeing which areas Australia decides to focus on," he said.
Whereas, European Space Agency Director General Jan Woerner called it a welcome step and said, "At the beginning of the '60s Australia was an associate member of the European Launch and Development Organisation (ELDO) So we are really happy we can continue our strong cooperation."
Some other major space agencies heads, which included JAXA President Naoki Okumura and Canadian Space Agency (CSA) President Sylvain Laporte, also praised Australia's decision to establish a national agency.