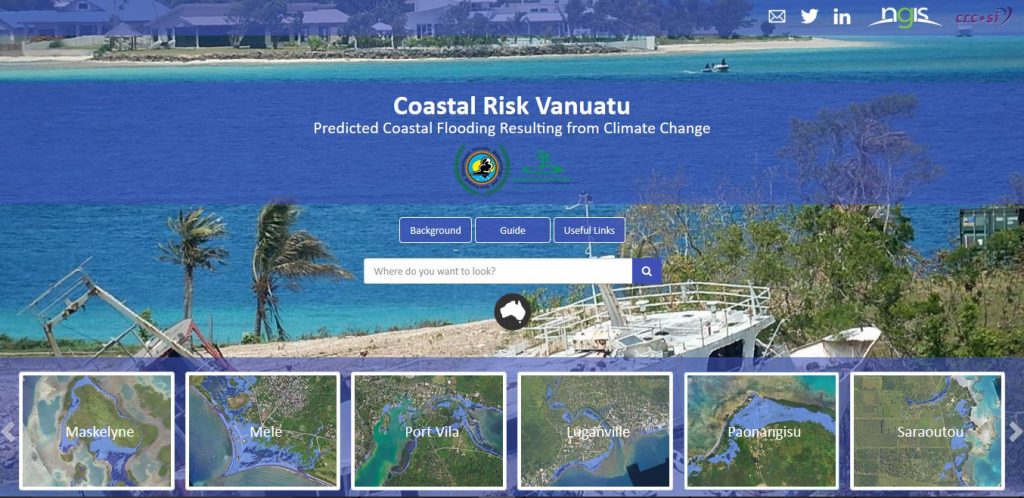 Australia: Developers from Australia's NGIS and CRCSI have created a coastal risk webtool for Pacific island nation – Vanuatu – that will help coastal residents of Vanuatu to understand and act in situations like rising sea levels or coastal flooding.
Coastal Risk Vanuatu is an open access website for the whole community – it's easy to use and will give individuals, residential groups, and local and national government the best awareness and knowledge of how coastal communities in Vanuatu will be affected by sea level rise.
The website empowers coastal people and communities to take proactive steps at the time of sea level rise. Coastal Risk Vanuatu is a new initiative that builds on the work of the Pacific Island Coastal Inundation Capacity Building project and the Vanuatu Globe – previous research conducted by NGIS Australia and CRCSI in 2014.
This project, funded by the Australian Government, provided hands-on knowledge about mapping the coastline. It provided coastal mapping and risk assessment capacity building and training to over 190 people in four Pacific nations.
"The Coastal Risk Vanuatu website will build awareness regarding the challenges that Vanuatu faces with climate change, and will ultimately lead to more effective decision making", Director General of Climate Change Vanuatu Jesse Benjamin said.
Coastal Risk Vanuatu tool is an open interactive sea level rise platform, based on the Vanuatu digital elevation model. It incorporates social media photos and Pacific Community UAV imagery captured during the first response recovery post Cyclone Pam in 2015; demonstrating the value of imagery during disaster recovery.
"Building on the technical capabilities drawn from Australian research agencies, we now have the ability to accurately map coastlines to understand the impact of changing sea levels", said Dr Nathan Quadros, Program Manager, CRCSI.
"Given our previous work in the Pacific Islands and the strong ties we have developed in the region, it is fitting that we extend our knowledge and expertise to vulnerable coastal communities, governments and NGO's. Through this easy-to-use sea level rise visualisation tool Vanuatu will have access to the best information for their coastal adaptation planning".