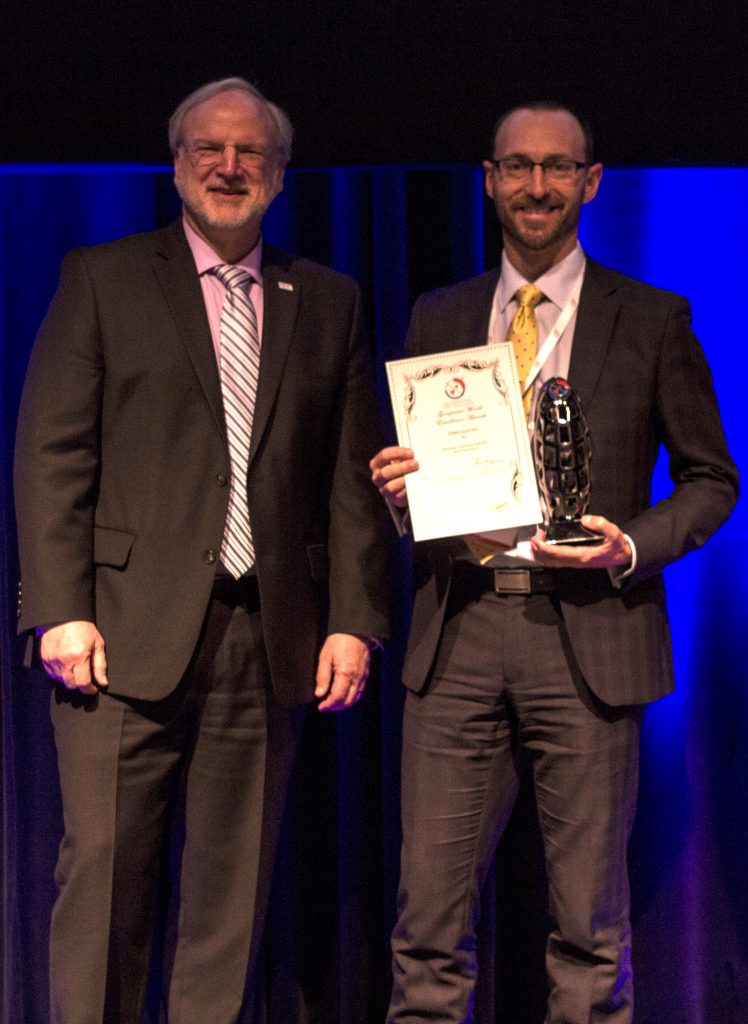 The Netherlands – PSMA Australia's Geoscape project aimed at capturing Australia's Built Environment developed using crowdsourcing has won the Geospatial World Excellence Award. Dan Paull, CEO, PSMA, Australia was here in Rotterdam to receive the award at Geospatial World Forum 2016.
Geoscape is a new initiative from PSMA Australia that captures the observed built environment and anchors it in a reliable geospatial base. The dataset includes 3D building attributes, land cover, tree heights, and elevation. Geoscape also captures features such as roof materials, swimming pools and solar panels. Geoscape will link together numerous attributes to build up a greater understanding of what exists at an address for every address in Australia (13.5 million), including buildings, building attributes and landcover.
Australia has existing 3D city models that provide high quality detail for very small geographic areas. Geoscape will provide similar data but at the continent scale. Whilst a number of city areas and countries such as Singapore have undertaken such activities we believe that this type of content at this scale is a world-first. This makes the availability of Geoscape an exciting milestone in the support of Australia's digital economy.
Various Digital Elevation Models (DEMs) and Digital Surface Models (DSMs) will be used during the development and maintenance of Geoscape. A national 30m DEM will be provided with Geoscape, supported by additional high quality DEMs.
The key features are:
Geoscape's coverage is national – it will cover the whole of Australia.
2. Geoscape will be maintained on a regular basis so that it depicts the built environment as it changes.
3. Geoscape includes linkages to other important geospatial reference datasets including geocoded address, property boundary data and the transport network.
This new product offering uses PSMA's strengths to provide an unprecedented level of detail for every property in Australia by providing essential information about what exists at that address. This project is being funded by PSMA. We are collaborating with Australian federal, state and territory data custodians. We are working with Digital Globe for remote sensing and feature extraction. In addition, Geoscape will incorporate crowdsourcing and use open data where available. An example is the use of Digital Globe's crowdsourcing geospatial intelligence technology, Tomnod www.tomnod.com, to assist in the identification of features such as swimming pools and solar panels.
Once completed, it is expected that Geoscape will provide new insights that can be applied broadly, including insurance risk modelling, emergency modelling and management, business and marketing intelligence, policy development, service delivery and many research activities. This capability is further enhanced through linkages to all PSMA datasets that extend the depth and power of the dataset.