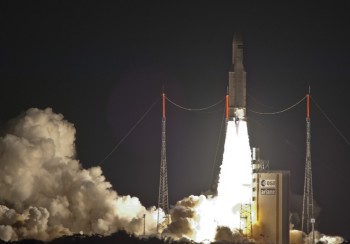 France: An Ariane 5 ES rocket launched with four Galileo satellites from the European Spaceport in Kourou, French Guiana on Thursday. The mission was carried out by an Ariane 5 rocket that propelled the four Galileo satellites into orbit for the navigation constellation's first-ever quadruple launch.
Once the satellite gets operational, it will support 24 operational satellites and a ground network to provide positioning, navigation and timing services. Until now, Soyuz rockets have carried two satellites at a time.
Galileo is an important infrastructure program for Europe, creating a civil global satellite navigation system that provides highly-accurate positioning with great precision and reliability.
It is funded by the European Union, with overall responsibility for management and implementation held by the European Commission – while design and development of the new generation of systems and infrastructure has been assigned to the European Space Agency.
In support of the Galileo program, Arianespace is using the Ariane 5 ES version with an enhanced storable propellant upper stage that allows for reignition and long coast phases during the mission.
These upgrades maximize the launcher's performance for deploying the Galileo spacecraft – which will have a combined mass of 2,865 kg. at liftoff – two at a time into a circular medium-Earth orbit. The satellites were built by OHB System in Bremen, Germany, with UK-based Surrey Satellite Technology Limited (SSTL) supplying their navigation payloads.