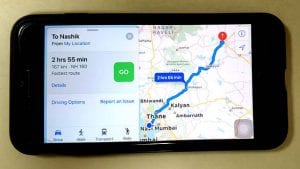 US: Apple had added more features to its Maps application. These features have been already rolled out on all the iOS and macOS devices. Vehicles with Apple CarPlay enabled infotainment system can make use of the voice navigation feature with the help of their iOS and macOS devices. More importantly, the Apple Maps update has also received turn-by-turn navigation, something that is already present on Google Maps.
In addition to giving turn-by-turn navigation, Apple Maps also offers different modes such as Drive and Walk that can be altered in between navigation. Apple Maps now also offers option to view different cab services such as Ola and Uber along with public transport options. The cab services also display the time that would be taken by the cab to reach your location. You can either select the option from Apple Maps itself or click on the option and it directs you to the Cab application. All these options are already available on Google Maps. Will these new features make Apple Maps a preferred option over Google Maps, is something that time will tell.
When Apple Maps was released in 2012, the company had claimed to offer flyover recognition, turn-by-turn navigation, 3D maps and the virtual assistant Siri. It was also made to replace Google Maps and be the default app on all iOS and macOS devices. However, Apple Maps received severe criticism which was followed by an official apology by Tim Cook, Apple CEO and also the exit of two of its employees.