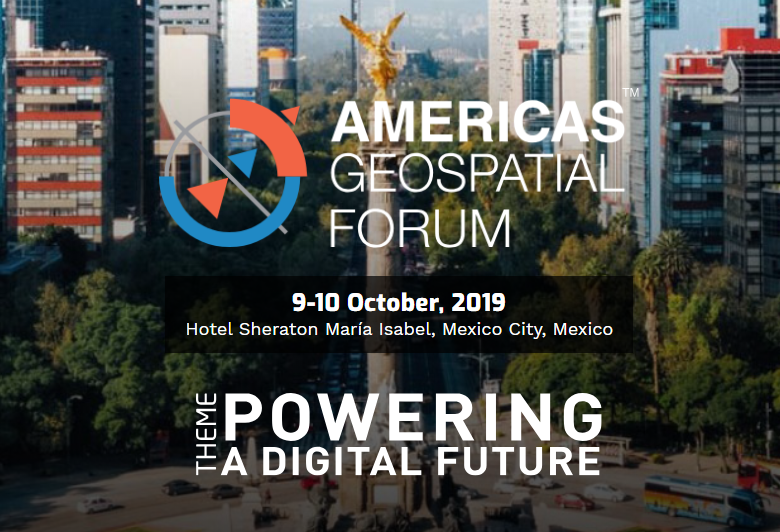 Mexico: Americas Geospatial Forum (formerly Latin America Geospatial Forum) is inviting nominations for Americas Geospatial Excellence Awards. The Award is an internationally recognized award that recognizes exemplary innovations and practices in geospatial technology in the Americas. The Awards will be presented on the occasion of Americas Geospatial Forum, being organised October 9-10 in Mexico City, Mexico.
The Awards are open for projects implementing geospatial technology in sectors such as agriculture, natural resource management, urban planning and development, land information management, utilities, environment, infrastructure, citizen services, location-based services, etc., in the Americas (Central America, The Caribbean, South America and North America). The Awards also recognize innovations in technologies such as positioning & navigation, LiDAR, laser scanning, 3D modeling, mobile mapping, artificial intelligence, Internet of Things, digital cartography, etc. Nomination deadline is August 20.
Registration: Registration for the conference is also open now. An early bird discount of 15% is on offer till August 15; after which full price registration will apply.
About Americas Geospatial Forum
Americas Geospatial Forum aims to connect the dots for geospatial technologies in the Americas with communities, business enterprises, government, research & academia through strategic collaborations, innovation, promotion, partnerships and management liaison. The erstwhile LAGF (Latin America Geospatial Forum) is expanded in scope and purpose to include the different regions in America (North America, Central America, The Caribbean and South America). With such broadening of geographic scope, the innovations taking place in different parts of the region in technology adoption, use case and applicability can be easily exchanged, giving rise to B2B, B2G and B2C opportunities. More details about the conference can be viewed on www.americasgeospatialforum.org
The conference is co-organised by National Institute of Statistics & Geography Mexico (INEGI), and in partnership with Oracle as Co-Sponsor, Pan-American Institute of Geography & History, Instituto Mexicano del Transporte as Supporting Partners, and National Polytechnic Institute Mexico; Mario Molina Center For Strategic Studies On Energy And The Environment Mexico; National Service of Health, Safety and Food Quality Mexico (SENASICA); UNAM Geography Institute Mexico; and UNIGIS America Latina as Knowledge Partners.
Contact details for further information:
Ms Amalfi Conde Véliz, [email protected]
Ms Paulina Landa; [email protected]