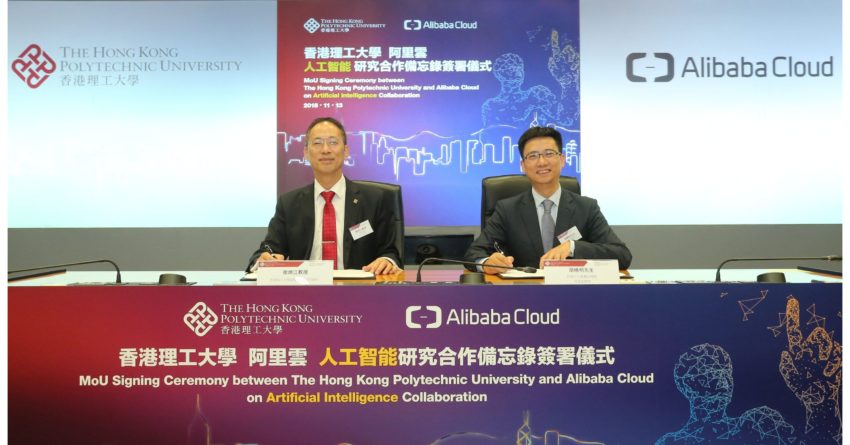 HONG KONG: The Hong Kong Polytechnic University (PolyU) and Alibaba Cloud, the cloud computing arm of Alibaba Group, signed a Memorandum of Understanding (MoU)  to strengthen their cooperation in Artificial Intelligence (AI) research, particularly focusing on the areas of smart cities and smart healthcare. The two parties hope to translate research findings into real applications which can be initially adopted in Hong Kong as a pilot and then rolled out to the rest of the Greater Bay Area and other overseas cities.
The MoU signing ceremony was held on the campus of PolyU, with Professor Alex WAI, PolyU's Vice President (Research Development), and Mr Simon HU, Senior Vice President of Alibaba Group and President of Alibaba Cloud, as signatories. Dr HAO Yin-xing, Director of Liaison Office of the Central People's Government in the Hong Kong SAR, and Professor Timothy W. TONG, PolyU President, alongside a number of industry leaders also attended and witnessed this event. Professor TONG said in the event that PolyU is very pleased to collaborate with Alibaba Group, he is convinced that the extended strategic cooperation between PolyU and Alibaba Cloud will further the development of cutting-edge technologies in the fields of smart cities and smart healthcare.
"PolyU and Alibaba Group have been working closely together for some time, collaborating on many Alibaba research projects, AI-related projects and activities. PolyU has been recognized for its endeavors when it was ranked eighth in terms of field-weighted citation impacts in AI research according to data analysis for Times Higher Education. Combining the two parties' research capabilities in AI and big data analysis, we will deliver fruitful results for both scientific research and technological development," said Professor Philip C.H. CHAN, PolyU Deputy President and Provost.
The two parties will further explore the opportunity for setting up a joint research center to advance AI research, including fundamental research, applied research and commercialization of research findings that will ultimately support the development of the ecosystem and benefit the wider community.
In the area of smart cities, the two parties will strive to apply big data technologies and the Deep Neural Network to areas such as public transportation management and urban planning.
As for smart healthcare, PolyU and Alibaba Cloud hope to develop a series of advanced and impactful AI-application technologies. Initiatives that have already been identified include helping to lower medical expenses, reducing the chance of medical malpractice, assisting in the automation of diagnostic procedures and providing more personalised medication services for patients.