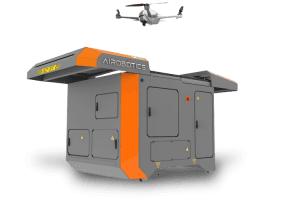 US: Airobotics recently announced that they have received a first-of-its-kind waiver from the FAA, giving them permission to perform three different kinds of UAV operations.
The new waiver allows Airobotics to fly BVLOS (Beyond Visual Line of Sight) automated drone missions over people, using a VO (Visual Observer) who is not required to maintain a direct line of sight with the drone at all times.
Airobotics has permission to operate using this new waiver out of their Remote Operations Center located in Scottsdale, Arizona.
"This latest certification opens the gateways to offering American mining companies, seaports, major construction projects, and in the future smart cities, an optimal means of increasing efficiency and safety while decreasing operational costs," stated Ran Krauss, CEO, and Co-Founder of Airobotics.
Listed in the actual Certificate of Waiver issued to Airobotics by the FAA are the specific sections of the Part 107 rules that have been waived:
14 CFR § 107.31, Visual line of sight aircraft operation, is waived to allow operation of the small unmanned aircraft (sUA) beyond the direct visual line of sight of the remote pilot in command (PIC) and any visual observer (VO) who is participating in the operation.
14 CFR § 107.33(b) and (c) (2), is waived to the extent necessary to allow operation of the small unmanned aircraft (sUA) when any VO who is participating in the operation may not be able see the unmanned aircraft in the manner specified in §107.31.
14 CFR § 107.39, Operation over people, is waived to allow operations over a limited number of non-participating human being.
The new waiver will primarily be used to fly missions within the mining sector, as well as for industrial facilities in the U.S.
Also, with this new waiver, Airobotics is now the only company to hold a waiver to fly BVLOS missions in the U.S., Australia, and Israel.
In addition to holding a BVLOS waiver in all three of those countries, Airobotics claims to be the only drone company in the world certified to fly without a human operator. This claim is backed up by their approval from Israel's Civil Aviation Authority to fly fully automated drone missions without a pilot, which was granted in March of this year.
When weighing the value of the unique permissions Airobotics holds—to fly BVLOS in the three countries just listed, to fly fully automated missions in Israel, and to fly over people in the U.S.
The process for obtaining a BVLOS waiver, or a waiver to fly over people, is incredibly rigorous and involves a close investigation into the specs of the UAV proposed for the operation. Specs are especially vital for the waiver application when a company or individual is asking for permission to fly over people, because all safety concerns need to be anticipated and addressed before the FAA will allow a drone to operate above people.
The fact that Airobotics has not only received permission to fly both BVLOS and over people at the same time, but to do so with an automated drone solution that does not have to be directly observed by a VO, speaks volumes about the quality of their technology. Given that the waiver was granted, it can be assumed that the FAA closely scrutinized Airobotics' automated solution in the waiver process, and determined that these types of operations could be performed safely using their UAVs.