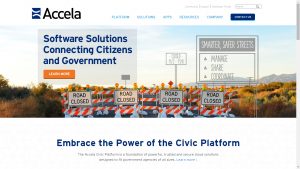 US: Accela, the leading provider of cloud-based SaaS solutions for the US government, announced the launch of Accela Civic Platform V10 to improve overall user experience and enhance performance. The Civic Platform is at the core of Accela's offerings and provides rich functionality to automate and simplify the complex workflows associated with building communities, growing businesses and protecting citizens. Updated features include a streamlined user interface, advanced search capability, modernized GIS interface, and faster performance overall.
"Dedicated solutions that enable speed, efficiency and ease of doing business for governments are key to employee productivity and satisfaction and enable them to better serve their communities. With V10, we made our Civic Platform more responsive and easier to use so governments can optimize service delivery to residents and businesses," said Troy Coggiola, chief product officer at Accela. "The V10 release advances Accela as the standard for community development and regulatory workflow automation and solutions."
The core components within the Accela Civic Platform V10 include:
Elegant interface – giving users an enhanced experience with a modern look and feel and faster response
Improved forms designer – providing new features and appearance to make designing new forms or editing existing forms quicker and more intuitive
Enhanced global search capability– improving indexing and search functions so users get the documents and data they need much faster than before
Configurable business rules – offering a new and more efficient way to create and manage the rules and logic previously implemented via scripting
GIS enhancements – speeding the process to load maps, and making the information associated with maps easier to access and manage
Next generation of Accela Mobile – providing significant features to bolster the consolidation of Accela's mobile products
Pasco County, Florida, an Accela customer that participated in Version 10's beta testing, noted advantages in both speed and usability.
"We saw marked speed improvement when doing global searches and navigation, workflow processing, and inspection scheduling with Version 10," said David Boucher, Pasco County's business systems analyst.
"We've seen tremendous demand for Accela solutions in the cloud and this has fueled increased investment and modernization in our SaaS products," said Dave Rusconi, Senior Vice President Cloud Operations. "With the launch of Version 10 and our modern SaaS platform, Accela continues to build on the momentum of several significant 2018 milestones, including the announcement of Accela's off-the-shelf Civic Applications and our SaaS hosting relationship with Microsoft Azure. We are thrilled with the feedback we've received by customers on the direction we are taking both the company and our product offering."