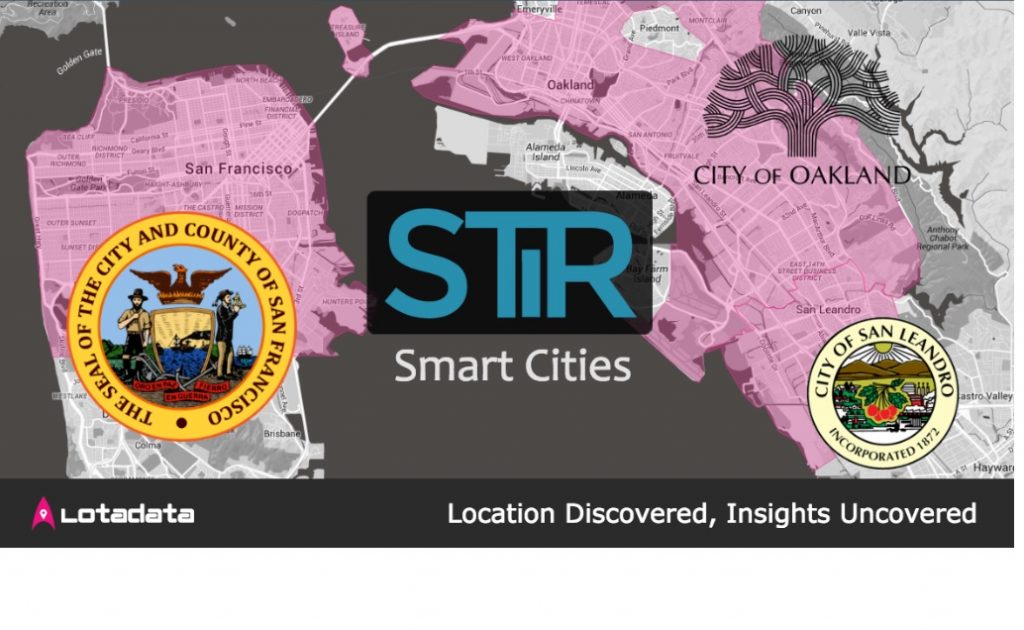 US: LotaData has announced to bring location intelligence, predictive analytics and machine learning capabilities to STIR 2016 program. The STIR program was pioneered by the City of San Francisco to match technology startups with city challenges and connect public-sector staff directly with entrepreneurs to seed problem discovery, to share innovative ideas and to build solutions. Cities participating in the program include San Francisco, San Leandro, Oakland and West Sacramento.
The City of San Leandro sought a technology platform with easy-to-understand visual analysis of user services and in-depth program statistics for RHS supervisors and decision-makers. LotaData will apply their geo-temporal data APIs, mobile SDKs, and visual analytics and insights, to enrich the city's understanding of how residents access and utilize city facilities including community centers, parks and playgrounds, seniors centers, fields (baseball, soccer, softball), tennis courts, pools and aquatic centers.
"Data drives informed decision making. We're excited that LotaData is joining our Recreation and Human Services team to enable programming and education tailored to what San Leandro residents really want!" shared Deborah Acosta, Chief Innovation Officer, City of San Leandro.
LotaData's real-time datasets already track over 6000 neighborhood profiles with detailed demographics, household attributes, education, employment, housing trends, commute patterns, crime incidents and political preferences. LotaData will also apply their extensive understanding of hyperlocal events to put the spotlight on programs, classes, kids clubs, meetups, festivals and social activities offered by the city.
"LotaData are all about hyperlocal trends, local communities and neighborhoods. Smart cities are embracing our technology platform because we make it seamlessly easy to delight residents. This increases engagement, interaction and participation," said Apu Kumar, CEO and Co-founder of LotaData.
"Smart cities get smarter with LotaData's mobile location data science. Our platform is broad-based, versatile and optimized for the 140+ billion public sector market. Our first-party data combines with location signals from mobile devices and IoT sensors to generate insights into 'what is happening, where and when'. The resulting real-time situational context empowers smart cities to reduce cost while personalizing services based on the needs of the individual and the collective."
Known for bringing "spatiotemporal intelligence" from academia to the real world, LotaData are applying their intellectual property to solve civic challenges. The company is based out of ImpactHub San Francisco in the historic SF Chronicle building, where they co-work alongside like-minded startups striving to make a positive difference to the community.
The founding team brings extensive experience in search technologies, mobile apps, location intelligence, IoT, data science, predictive analytics and machine learning. In addition to smart cities, LotaData's platform empowers enterprise businesses to unearth actionable intelligence about their mobile customers, and LotaData's Moments SDK with real-time visual analytics enables app developers to locate the right moment to engage with mobile users.
Source: PRWeb