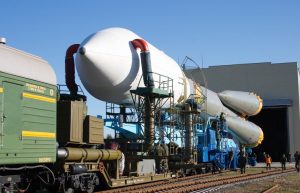 Russia: The Russian news agency TASS has reported that the launch of GLONASS-M satellite No. 53 from the Plesetsk cosmodrome has been rescheduled from May 21 to May 29, according to Reshetnev Information Satellite Systems CEO Nikolay Testoyedov. The launch postponement has nothing to do with the satellite's condition, Testoyedov said.
Russia's State Space Corporation Roscosmos announced earlier that a Soyuz-2.1b carrier rocket was expected to bring a new Glonass-M satellite into orbit. Roscosmos says that up to eight satellites may be launched before the end of 2017 to replenish the GLONASS constellation. Both Soyuz spacecraft and Proton-M heavy carrier rockets may be used for the launches.
A source in the space rocket industry told TASS that the launch of a Proton carrier rocket with three GLONASS satellites may take place before the end of 2016. A group of 31 Glonass satellites is currently in orbit, with 24 Glonass-M operating to provide global coverage, four in reserve and one Glonass-K currently undergoing trials.
Source: TASS