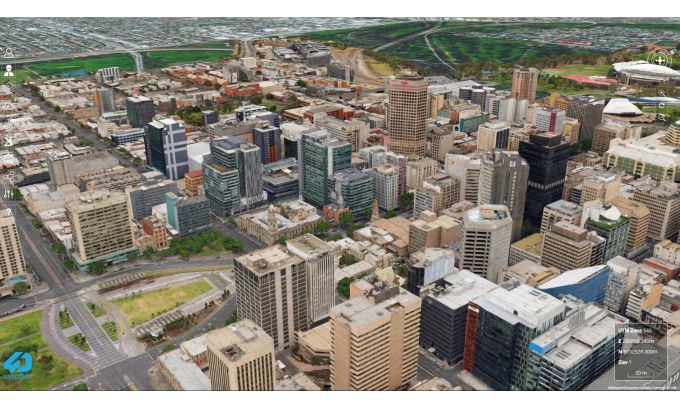 Now, with no software 4DMapper can support 3DMesh models in a geospatial environment. The tech boom in 3D geospatial, from satellites to UAVs, has seen 3D mesh models as a common deliverable. Beyond the traditional ortho, DTM and point Cloud, these 3D models provide a new experience in captured reality, an interactive 3D model of the real world, to inspect, measure and make decisions.
The challenge is bringing this rich, powerful data to those that really need it, beyond just the geospatial professionals with specialist software like ourselves, but to the managers, stakeholders, executives  –  the decision makers.
Real geospatial environment
In the past, web streaming products for mesh models have been very limited, non-geospatial, constrained by size and resolution, providing a nice visual but lacking sophistication required for the real projects. 4DMapper now streams rendered mesh models in a real geospatial environment. Users can measure and digitise, with accuracy and real-world coordinates and scale, to produce real-world outcomes.
Furthermore the size of the data set is no longer a problem. As the model is tiled and streamed, you don't have to wait for the whole file to load in your browser, you just need the part you're looking at. Not only does this make it fast, it also means you can stream and share massive files, immediately, with no loss of detail.
4DMapper currently supports Bentley ContextCapture models. The 3D models created in Context Capture are amazing, with industry leading technology creating unprecedented level of detail. Object (.obj) and other formats will also be supported soon.
4DMapper is currently hosting and streaming massive mesh models, from super-high-resolution drone inspection projects to models of whole cities, said Rob Klau, company CEO.
New medium
Upload from the browser and deliver, share and collaborate with just a URL. 3D mesh models provide a useful new medium for 4DMapper users, bringing this digitally captured reality onto anyone's browser, to share, measure, digitise, annotate, inspect and collaborate, all without any software. According to 4DMapper it is much more than just a visualisation tool but the "Google Docs" of geospatial, including 3D Mesh.