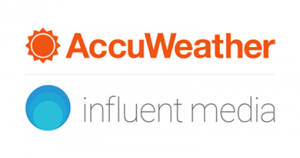 US: AccuWeather today announced that it has appointed Influent Media as its digital advertising sales partner in the United Kingdom and Ireland.
Influent Media, the U.K.'s newest and largest independent digital advertising sales house, is ideally suited to help brands and agencies that serve audiences in the U.K. and Ireland benefit from AccuWeather's ability to deliver customized messages to tightly targeted audiences and meet strategic campaign objectives.
"AccuWeather enables advertisers in the United Kingdom and Ireland to speak to consumers with an unprecedented level of relevancy, and to deliver ad experiences across platforms," said Vincent McDonald, Chief International Strategy Officer at AccuWeather.
"We're excited to work with a partner such as Influent, which brings a fresh approach to the market, as well as a strong team that has nearly 20 years of experience. They're a natural fit for a company with AccuWeather's scale and ambition."
The partnership with Influent Media follows the opening of AccuWeather's European office in Dublin in 2017. "We've already seen phenomenal demand from blue-chip advertisers across a wide range of industry verticals," said Brian Lavery, AccuWeather's Managing Director in Europe. "Legendary British and Irish brands are excited to put AccuWeather's creative solutions, unique capabilities and broad audience reach to work for their marketing campaigns."
"With AccuWeather, advertisers in the U.K. have an unmatched opportunity to extend AccuWeather's superior weather data into their larger marketing strategy," said Neil Higgins, Influent Media's Managing Director. "AccuWeather's rich contextual and historical data permits unique levels of customization and consumer relevance to fuel ad campaigns."
AccuWeather's targeted, solution-based campaigns maximize the exclusive benefits of AccuWeather's massive multi-platform audience reach across award-winning mobile applications, web, mobile web, radio, television, newspapers, connected TVs, place-based media, and more.
AccuWeather's comprehensive big data capabilities provide tailored, targeted, and programmatic advertising platforms and packages, ensuring advertisers effectively deliver the right message to a relevant audience.