November 2009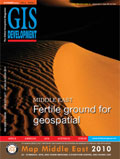 The Geospatial Industry Magazine
Theme: Middle East: Fertile ground for geospatial

REGULAR FEATURES
First Person
Eng. Mohammed Al Zaffin, Director – GIS centre, Dubai Municipality
ARTICLES
SPECIAL FOCUS – MIDDLE EAST
UAE
In UAE, GIS is considered an integral part of information technology (IT) and many government departments have already implemented or on their way to introduce GIS.
OMAN
To maximise the value of GIS in Oman, the implementation strategy needs to be reviewed and modified to meet old and new objectives of GIS–and to go with a new trend of the technology.
QATAR
As same GIS standards are used throughout Qatar, data and resulting applications of all government agencies are compatible, providing a nationwide GIS.
BAHRAIN
GIS in Bahrain is nearly a decade old. Many GIS applications have been developed to improve the performance of various municipalities.
PIONEERS