GeoSmart India 2019
February 11 @ 9:00 AM

-

February 13 @ 5:00 PM

IST

USD500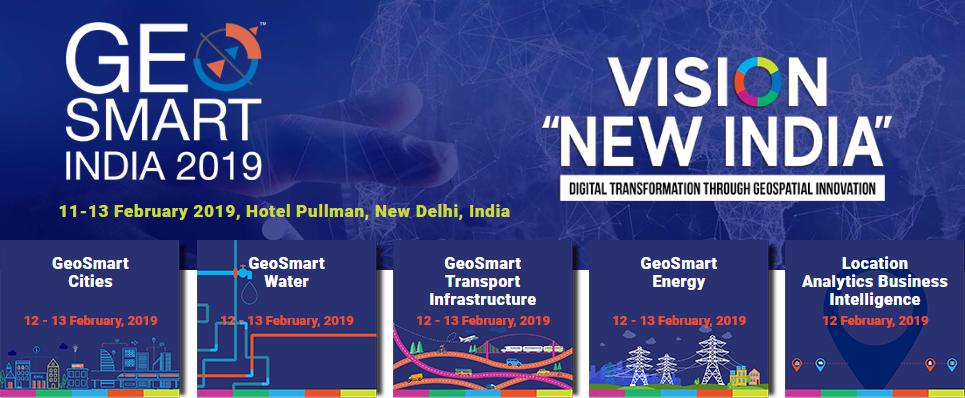 GeoSmart India is a three-day conference centered around the theme Vision New India: Digital Transformation Through Geospatial.
It aims to enable Vision New India through creating intelligent ecosystems that are an integration of Geospatial and other empowering technologies like AI, IoT, Big Data, Cloud Computing, Location Analytics & Business Intelligence.
Theme
GeoSmart India is an interactive platform that demonstrates the collective and shared vision of the Indian geospatial community and is the most prominent stakeholder event of the Indian geospatial ecosystem. The event plays an integral role in bringing together decision makers and policy developers, mapping agencies, technology providers, developmental organizations and academic institutions to discuss policies; their implementation and impact, technology advancements and adaptations and how to connect these with the user communities to the benefit of all. With this edition, Geospatial Media aims to strengthen the Vision "Vision New India: Digital Transformation through Geospatial Innovation" initiative through providing key concepts of geospatial technology for Clean, Healthy, Educated, Complete, Able and Secure India.
Highlights of the Conference
The 19th edition of GeoSmart India.
1500 delegates, 500+ Organization, 200+ Speakers, 25+ Sessions, 20+ countries, 20+ Networking Hours, 10+ Awards, 7000  Sqr.ft Exhibition Area
Bringing together business users, SME's, startups, academia and decision makers
Connecting user communities
Power packed sessions on smart cities, transport infrastructure, water, energy, etc
Geospatial Excellence Awards and Networking Dinner
Supported by Various Ministries and Industry Leaders
Extensive coverage in print and electronic media
Panel discussions powered by Industry Leaders
Thought Leadership
GeoSmart India aims to inspire leadership and illuminate the path to our future by building on the ideas of:
Vision New India: Digital transformation through geospatial innovation
Geo-IT: An Integrated Approach – a technology driven initiative
Leveraging Digital Technologies for Business Intelligence
SESSIONS –
Contact email : [email protected]
Contact No. : +91-9760809122