GEOINT 2019
June 2, 2019 @ 9:00 AM

-

June 5, 2019 @ 5:00 PM

IST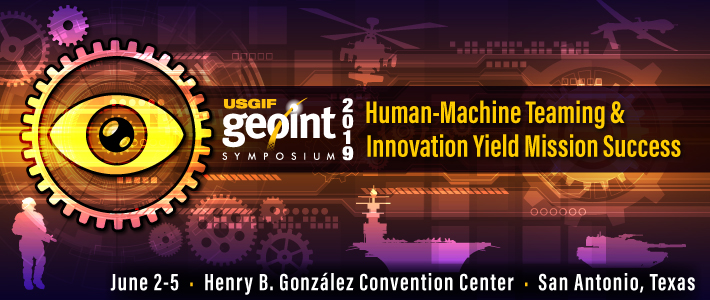 Hosted and produced by the United States Geospatial Intelligence Foundation (USGIF), a non-profit, non-lobbying educational organization, the annual GEOINT Symposium is the nation's largest gathering of industry, academia, and government to include Defense, Intelligence and Homeland Security Communities as well as commercial, Fed/Civil, State and Local geospatial intelligence stakeholders.
The event annually attracts more than 4,000 attendees from all over the world, features more than 250 exhibiting organizations, offers 50 hours of training sessions, and countless opportunities to learn, exchange ideas, and network.
Why Attend?
The GEOINT Symposium is an invaluable event for anyone who relies on the "where" when it comes to national security – industry, government, homeland security, academia, and non-governmental organizations.
The educational content, access to speakers, technology displays, and visibility and networking across the Intelligence Community is unparalleled.
You could attend four different industry events throughout the year, or come to the GEOINTSymposium, where everyone gathers to share ideas and better the greater Community.
Some of the attendees of past GEOINT Symposia include:
Defense, Intelligence and Homeland Security Personnel
Commonwealth and International/Coalition Partners
Federal/State/Local Government Leaders
Emergency Management/Public Safety Agencies
Military Intelligence Officers
Special Operations Forces
Counter-Insurgency and Human Terrain Analysts
University/College Educators and Researchers
High School Seniors interested in geospatial intelligence
College-level students studying the tradecraft

ROTC

 

and

 

JROTC

GEOINT

 

Community Supporters
Contractors and Businesses Utilizing

 

GEOINT

Decisionmakers who support

 

GEOINT

 

in his or her organization