Manifold Software Limited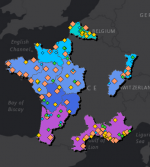 Manifold Software Limited
Manifold products deliver quality, performance and value in the world's most sophisticated, most modern and most powerful spatial engineering products for GIS and DBMS. Total integration ensures unbeatably low cost of ownership.
Manifold provides the most advanced technology in GIS. The company was first to provide 64-bit GIS, first to provide CPU parallel GIS and the first and still the only GIS company to provide massively parallel GPU computation as a built-in part of a desktop GIS product. Manifold's unique, parallel technology allows Manifold products to do in seconds what takes legacy GIS products hours or even days. See the Manifold Sales channel on YouTube for videos illustrating the breathtaking speed of Manifold products.
Manifold provides three categories of products: automatically parallel GIS and database via the totally CPU-parallel and massively GPU-parallel Radian Studio product, a free Manifold Viewer product that delivers full Radian capability for viewing and analytic needs, and still the world's broadest and deepest collection of GIS capabilities in Manifold System GIS products.
For nearly 20 years Manifold has built the GIS industry's best reputation for quality: famously bulletproof, Manifold GIS is well known for outstanding quality. Despite being by far the most technologically sophisticated spatial engineering product on the market, Radian Studio has never crashed, not even during beta and not subsequently in use by customers worldwide.
Send Message to listing owner
Please
log in
to be able to send messages to the listing owner.