Today is International Women's day. Now, I could've written blogs on satellites, GPS, and blah blah, but I wanted to make this one special. So here it is. I'm dedicating this blog to all my lovely female colleagues who are empowering the organization and at the same time empowering themselves, all day everyday.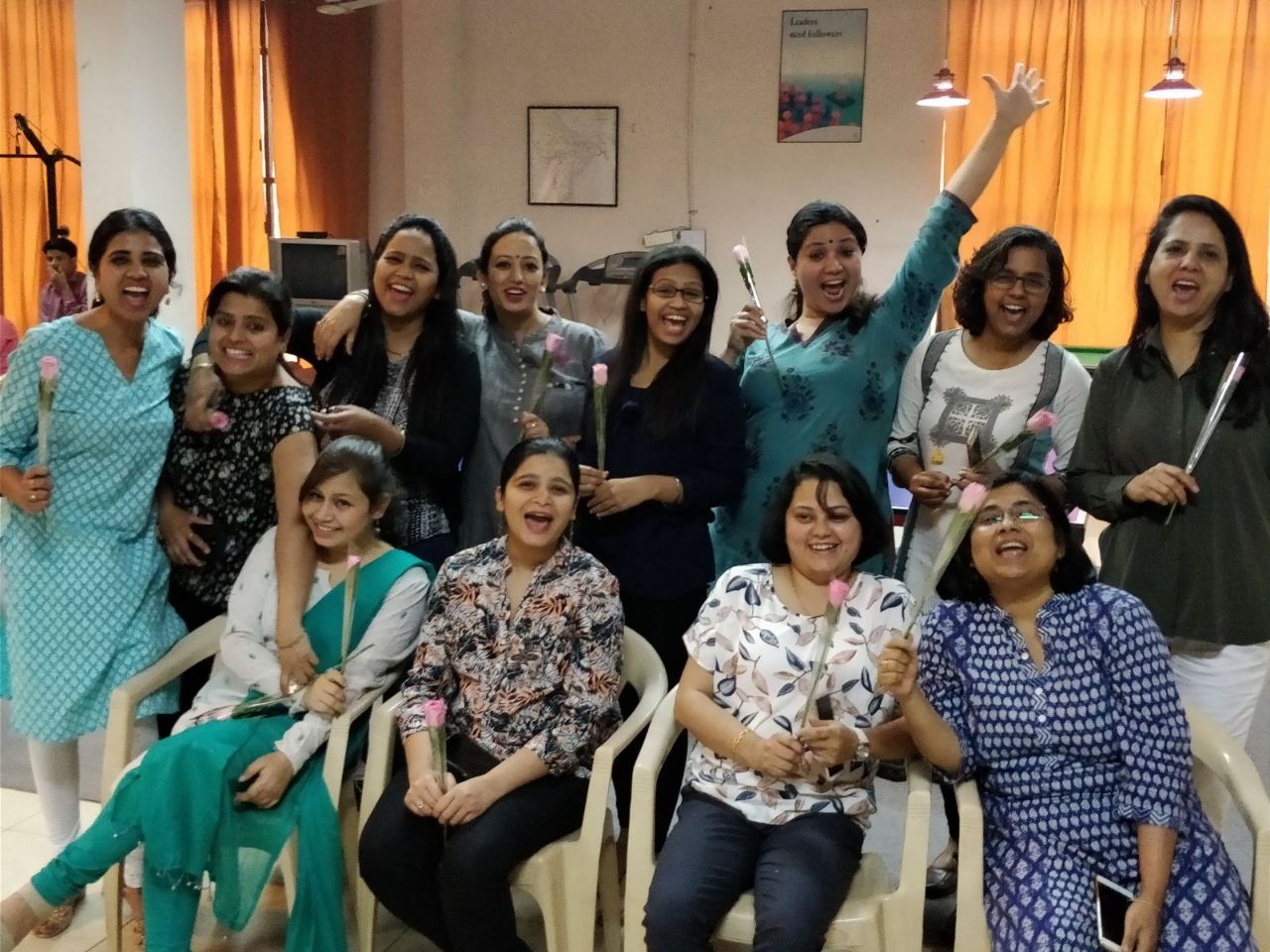 Annu Negi, Chief Operating Officer
Leading the pack is our old school head mistress. If you're taking a longish tea break, chances are you're in trouble. Staring at the screen, but thinking about unicorns? She's onto you! Even the CEO thinks twice before talking to her. But beneath that tough exterior is a loving and caring soul. For folks who know her well, also know that you can go to her even if your pinky hurts and she'll magically make it all better.
Tanuja Vashistha, Chief Strategy Officer & Vice President, Market Intelligence and Policy Advocacy
Her philosophy "When life throws lemons at you, make lemonade (the sweeter version). She loves to sing and do the occasional dance (We've seen from experience). Company of friends and family makes her happy. She loves trance and EDM music created by her personal in-house DJ, her son.
Anamika Das, Vice President, Outreach & Business Development,
Looking to have a movie night? This one will sit down with you for a Conjuring rerun. Heading a critical division of the company, if it's not her blood curling horror flicks that keep her up at night then it's her work. She claims she's a damn good cook, but the jury is still out on that cause we haven't tasted it yet. Spiritualist at heart, she believes in good vibes and doing good to the world.
Anusuya Datta, Executive Editor
And then there is Anusuya. When she is not behaving like a polar bear, as if the floor beneath her is a "fast-disappearing" ice block, ranting about everyone's 'A's and 'THE's, you will catch her frantically chewing her pencils (yes, the pencil-using journalist tribe is still not extinct at GMC!) as if she hasn't had a decent meal for days. But don't get fooled by her teddy bear looks, she can be a real mean thing when it counts — as a journo as well as a colleague. Now if this blog disappears tomorrow, you know whom to blame.
Megha Datta, Director, Sales and Business Development, Market Intelligence and Policy Advocacy
She's boisterous, and she's not afraid to be herself ever! Our in-house diva, never gets tired of trying out something new and edgy, be it clothes, haircuts or styles. Her passion and adventurism reflects in her work, attitude and interpersonal relationships. If you're looking for an Airbnb representative (after me), she's the first one you'll go to. Megha loves to go to new places, meet new people, hear their stories and share hers. It's never too late to be what to you want to be, her aspiration to become a therapist (I guess I'll be drunk calling her).
Rajeshree Datta, Director, Sales and Business Development
Always keeps the world before her. She is confused, at times restless and always thinks from other people's perspective. She wants to be known as the 'Concrete Other' in Men's World. A die-hard optimist and romantic by nature, she loves to express herself and addresses herself as a liberal feminist. 
Vaishali Dixit, Senior Manager (Business Operations)
This giggly bundle of joy is quite literally the 'jack of all and master of all'. Always organized and super tolerant, she's at your service as per the work requirement and self-motivated. What's not to love?
Shipra Tripathi, Manager, HR
Anytime you want to have a special treat in the office, she'll conjure up a 'special day' to be celebrated. The most approachable person after the COO, she's like the sister you never had. 
Sanskriti Shukla, Marketing and PR Manager, Outreach and Business Development (Yes! That's me)
I really want to start by bragging about how I can make your words catchy, but if you've been reading this blog, chances are you already know. Promise me good food and a bottle of red, and I'll pretty much follow you anywhere. When I'm not at work, I'm busy planning my next trip (it's Pondicherry at the moment), or my wedding to my imaginary boyfriend, John Mayer.
Shimonti Paul, Senior Assistant Editor
Prefers sleeping over anything else. But that doesn't make her a sleepyhead, although the tiny eyes can be misleading. Anyone who has faced her editing scissors knows how mean they can be when it's required. She lives life by not taking it too seriously. A lover of old bollywood classics, you'll find her on her seat humming Kishore Kumar's greatest hits.
Shilpi Chakravarty, Assistant Editor
Always persistent and a very good listener (even to ever crying people) is how we like to describe our Assistant editor. She loves to spread smiles, finds solace in cooking. And likes to spend quality time with the girl who makes her world go round, her daughter. 
Mahashrveta Choudhary, Assistant Video Producer
If you're done pronouncing her name, let's get to know her! 'Maha' to everyone, she's part of the team that is responsible for the incredible videos that you see on our portal. When she's not busy taking interviews, she loves to try her hands at photography. A poet at heart, Maha is currently trying to pick up on Urdu.  
Kuhelee Chandel, Consultant, Market Intelligence & Business Consulting
Research is formalized curiosity, so you'll always find her poking and prying with a purpose. If you smell anything good around the office, chances are she's cooked something. A geology buff, Kuhelee loves to bake. Her dream job? Becoming a professional pastry chef. While it's never too late to do what you love, she might already be a pro at it.  
Ananya Narain,  Research Analyst, Market Intelligence & Business Consulting division 
Does anyone smell coffee? A true 'Taurus' if not by built, then by mind and soul, Ananya obsessively believes in horoscopes and the law of attraction. She tends to zone in and out of conversations and forget things so easily that it's a miracle that the humongous amount of work she takes upon herself gets done. Our budding author is an overachiever, having already published a book (yes we don't like her).
Saniya Hasan, Management Trainee, Research
Independently owned and operated – That could go on her stamp. This smiley face makes her surroundings happy and positive by her dangerously hilarious (sometimes brutal) one-liners. You want to discuss losing weight and then step out looking for greasy junk food? She's your girl.
Sarah Hisham, Product Manager- APAC 
She's a human computer. Want some data dug up? She already has it with her. Wanna get connected with someone, she probably already knows them. From conceptualizing conferences to writing sparkling articles, there's nothing Sarah can't do. And all this with her trademark shy smile, I owe you a month's pay cheque if you catch her losing her cool ever! 
Deepali Roy, Regional Product Manager – Asia Pacific 
The hotspot to hobnob with the who's who of the organization, Deepali is a street food junkie (but light as a feather), avid photographer, sucker for reruns of favourite TV shows and movies, and the poster child for retail therapy. Anytime you want a BIG hug, run to her.
Swati Mittal, Assistant Product Manager
"You gotta do what you gotta do", the typical Swati saying. The only way she has fun is when she takes it easy. Good food and crazy people gets her going! These two things also happen to be favourite things. 
Rashmi Singh, Junior Executive (Front Desk)
You'll always find someone or the other begging her to ignore their late comings! Not that it really helps, behind that sweet smile is a thorough professional. Our front desk girl is not just about managing the Front Office, she's everywhere and a multi-tasker in true sense of the word. You keep her happy and in return she'll ensure you get good lunch in the pantry.
Rashmi Chauhan, Junior Executive, Database Management
She's the data house of the company. If you've lost a client's email id or looking for old conference registrations or media database, she's your girl. Making friends and listening to music is her hobby, and she's a killer on the dance floor.
Mahak Dhawan, Consultant, Outreach and Business Development
She believes in healthy mind, body, and soul, and you'll soon figure that out just by looking at her. Her true love lies taking spontaneous road trips and capturing special moments (I mean who doesn't like a good selfie?!).
Exclusive inputs by Anusuya Datta, Executive Editor, Media Division