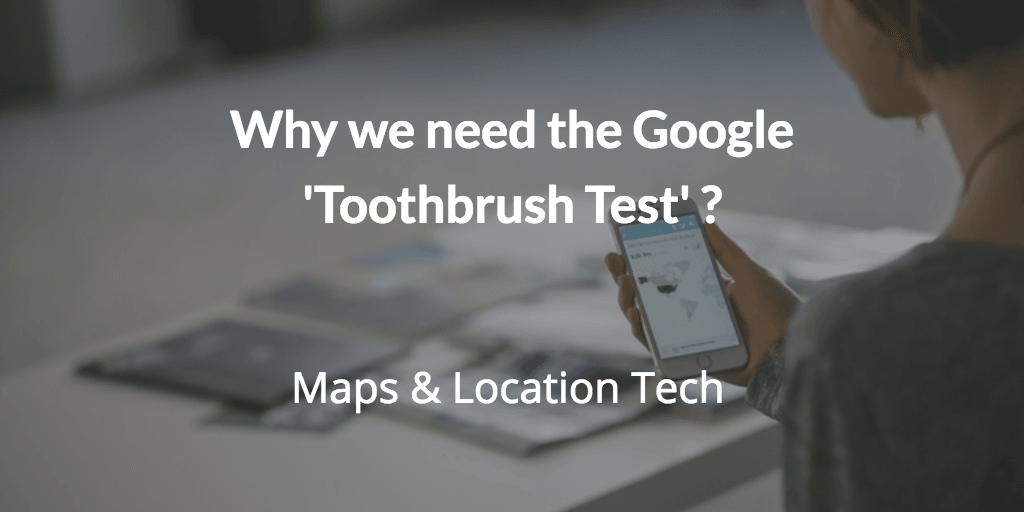 In an interview with Geospatial World recently, Ed Parsons, Google's Geospatial Technologist, compared maps to toothbrush. His exact words were: "We have an internal benchmark called 'The Toothbrush Test' that every product must pass. You use your toothbrush every day; you don't think about it as it is part of your day-to-day life. We are almost there with maps now."
The analogy is interesting because it illustrates what location is becoming — not only for businesses but even for the common man – a toothbrush.
Dr Walter Scott, Founder and Chief Technology Officer, DigitalGlobe, the largest satellite company on earth, also had something similar to say at the Geobuiz Summit last week. "GPS is a very complicated technology but my iPhone knows where I am and that knowledge of where I am actually feeds into a number of applications that use that information seamlessly to present choices to me that are relevant to my location. So, I think, Apple has done a very nice job of taking what is geospatially complex GPS and making it very accessible."
The ease-of-use of mobile apps like Google Maps and Strava has inspired a lot of companies to start thinking differently about location. This rapid consumerization of GIS technology has allowed anyone with a smartphone to use aspects of GIS technology with a few taps of their fingers, revealing valuable location intelligence data that they use to find new stores, directions and more… and consumers are expecting companies to follow suit.
Scott actually thinks if the customer doesn't have to know that it is geospatial magic underneath the covers then he is more likely to use it than if he has to know about photogrammetry and projections and datums etc.
The rise of social media and Internet has led to this interest in location from the consumer's side. So you have different tiers of what is required to support the geospatial initiatives: there is the consumer tier, the professional tier, and then something in the middle – what some experts call the 'prosumer' market — which is sort of dabbling in some high and professional requirements but also requiring some basic fundamental mapping capabilities that is available with Google, Microsoft, and others.
A report prepared by Oxera and commissioned by Google in 2013 found that the global geo services generate $150-$270 billion in revenues. By way of comparison this was broadly equivalent to the $140 billion revenues generated from the global security services industry or about one-third of the global airline industry's revenue of $494 billion then. According to another report by The Boston Consulting Group, within the US economy alone, the geospatial services industry was estimated to employ more than 500,000 people, generate $75 billion in annual revenues, and have an overall economic impact estimated at $1.6 trillion annually in revenues.
That was in 2013, and while no proper study has been done since then, informal estimates at a CAGR of 15-20% would safely put the geo industry at more than $500 billion today. And that is a lot of money.
As location becomes mainstream, the lines between geo and non-geo are fast getting blurred. Today, geospatial industry is not only handful 20-30 core geo companies that deal with location but is about every industry that deals in location and builds on top of it. So while a set of completely new players have entered the market sensing the opportunity, there are a host of major mainstream companies like SAP, Microsoft, IBM or Oracle and automobile, infrastructure, utility and even consulting companies like PwC which have shown interest in location. And each of these stakeholders – some new players and some non-geo businesses – are sharing this larger, growing pie.
The humble toothbrush is actually translating into a lot money.