Innovations in sensor technology, small satellites and new constellations are opening a plethora of opportunities in earth observation industry, opening the doors for NewSpace startups
The year 2014, when Planet launched its first bunch of small satellites — each weighing as much as a loaf of bread as against the traditional school bus-sized satellites that took years to build and millions of dollars as investment — saw the dawn of a new era in earth observation (EO). Since then, hundreds of small satellites have been launched — with various estimates putting the number of small satellites to be launched between 2018 and 2027 in the range of 6,500-7,000.
So what are some of these NewSpace startups and what are the breakthrough technologies that they are unleashing?
SAR satellites
Optical imaging has benefited from smaller and cheaper spacecraft for a long time. Now, a crop of new brave space startups is venturing into the niche market of synthetic aperture radar (SAR).
"Fitting synthetic aperture radar technology into a satellite under 100 kg was deemed largely impossible before we did it," points out Mikko Keränen, Vice President (Marketing) of Finland-based ICEYE.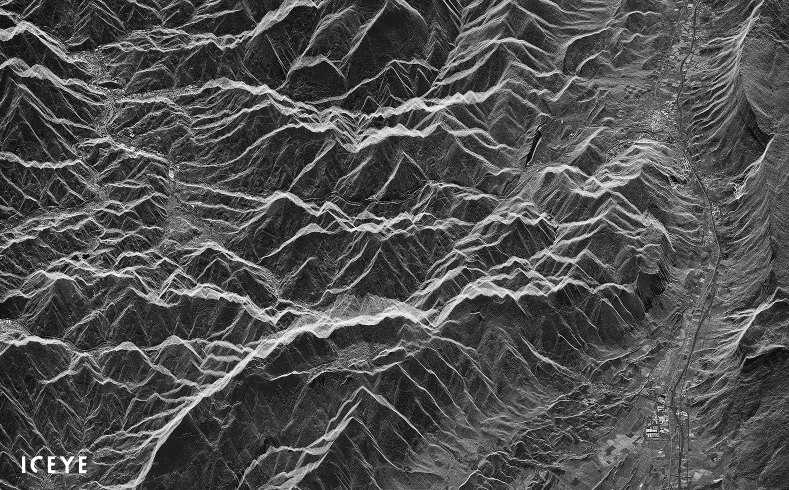 While NASA has been using synthetic aperture radar since the 1970s, it is only recently that the US has started allowing commercial SAR satellite players to operate. In 2015, Arlington-based XpressSAR became the first American company to get a license from the Department of Commerce to operate a private, commercial, space-based, SAR remote sensing system. While the first XpressSAR satellite is to be launched in 2022, San Francisco-based Capella Space, a startup founded in 2016, seized the opportunity and launched its satellite in December 2018 – the first of its 36-satellite constellation planned by 2022.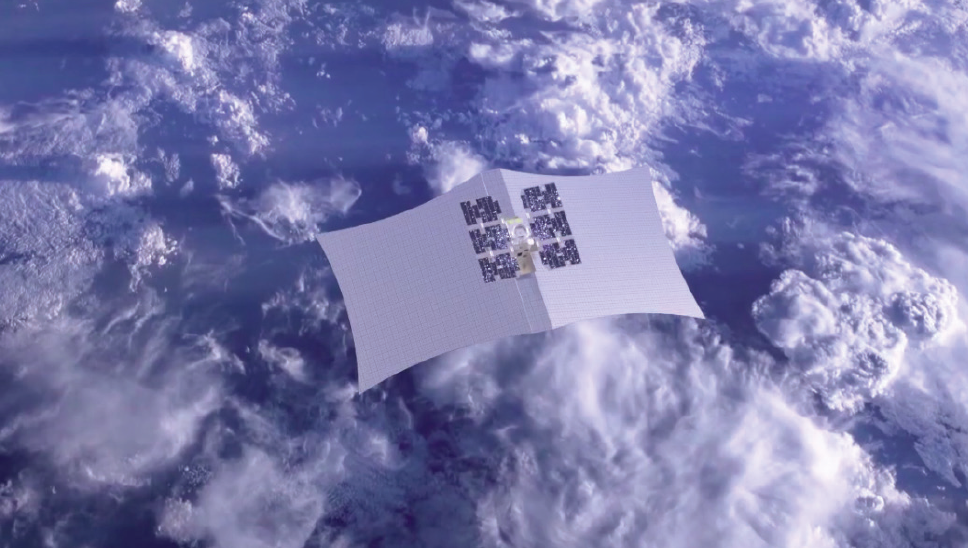 Capella will use radio waves to provide hourly coverage of every point on Earth, rendered in sub-meter resolution. "SAR has emerged as an all-weather, all-condition imaging technology for increasing the coverage and frequency with which we could observe change on Earth. [But] if you look across the market, there actually aren't that many SAR providers, with majority of small satellite players are focused on traditional sensors such as optical," says Payam Banazadeh, Founder & CEO of Capella Space.
"The demand for radar imaging (SAR data) has always been very high. It has simply been incredibly costly and plain difficult to make these satellites in the past, which has limited its use more broadly," explains Keränen. 

After its maiden launch last year, on July 5 this year, ICEYE launched two more SAR satellites — each weighing less than 200 pounds — on a Soyuz rocket. The company is on track to launch a total of five missions this year.
"ICEYE is aiming to serve commercial customers with imaging from their locations of interest as often as every few hours. This would require an 18 SAR satellite constellation," says Keränen. However, the number is highly dependent on customer needs.
Radio frequency sensors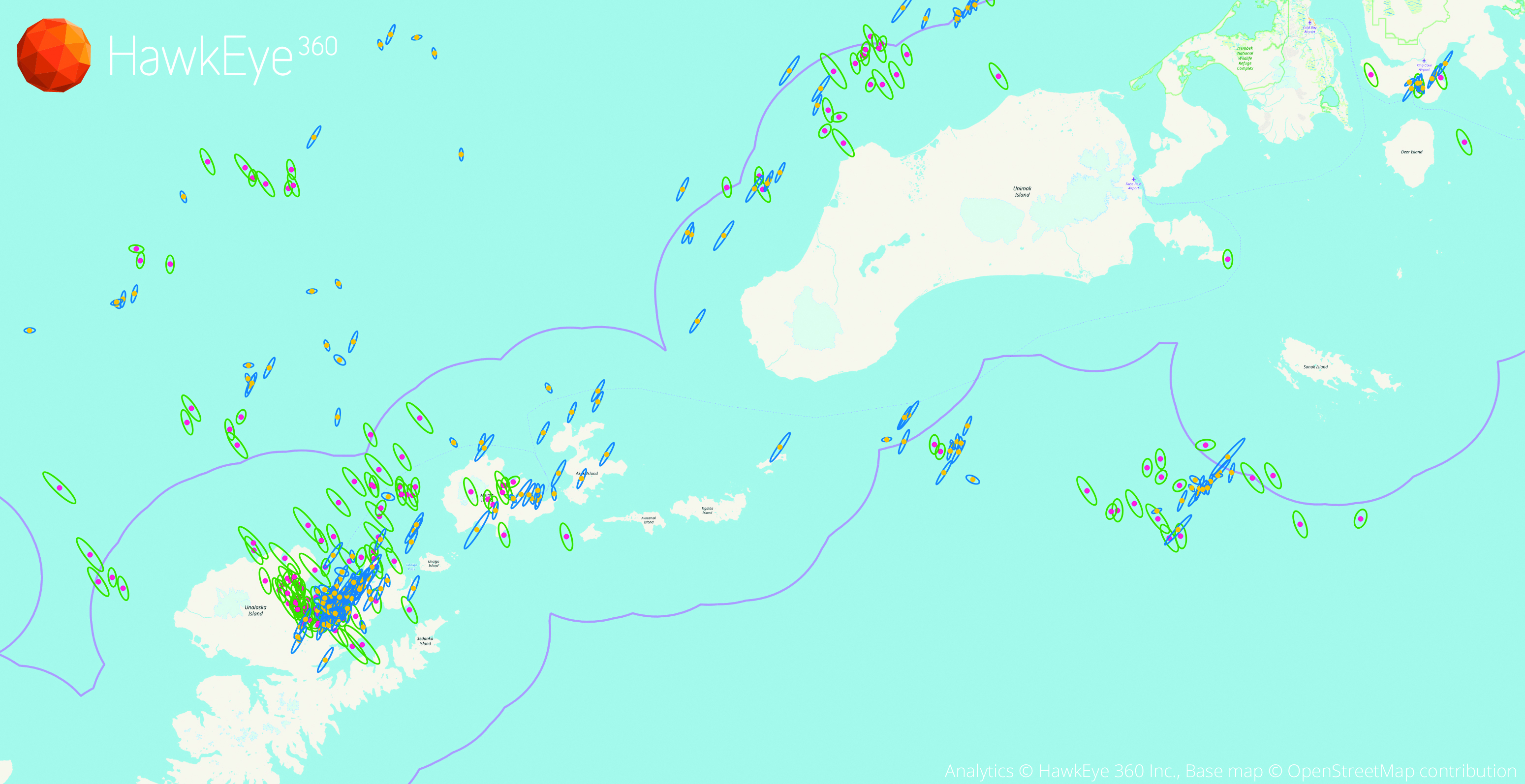 HawkEye 360, headquartered in Herndon, Virginia, has a more innovative approach as it seeks to  deliver a brand new geospatial data layer that has never been available commercially — precise mapping of radio frequency emissions. This too was a domain of governments, but technology advancements have enabled the company to deploy first-of-its-kind commercial constellation of formation flying satellites that can identify and independently geolocate a broad range of RF signals on Earth through triangulation. 
"Among our distinctive capabilities, we are able to identify and independently geolocate a variety of RF signals. Common signals of interest include locating emitters such as maritime radars, VHF push-to-talk radios, vessel Automatic Identification System (AIS) transponders, satellite terminals and cellular towers," says Adam Bennett, Product Marketing Director, HawkEye 360.
Currently, the company has three satellites in orbit — launched in December 2018 by SpaceX Falcon 9 — with each one capable of tuning across most of the frequency range from 144 MHz to 15 GHz. These low-Earth orbiting satellites are in a sun-synchronous polar orbit and their large field of view makes it possible to sense RF signals at every point on the planet multiple times a day. "Our second cluster of satellites is already under development and our goal for a fully operational constellation is to reach six clusters (18 satellites), allowing us to achieve a revisit rate every 30- 45 minutes," adds Bennett.
ALSO READ: The NewSpace Revolution: The emerging commercial space industry and new technologies
Hyperspectral imaging
Hyperspectral imaging, again a domain of military agencies and governments, is coming up as another major area of innovation. Narrow spectral signatures generated by hyperspectral sensors allow unprecedented precision in the classification of land and water, and a window into the chemical and molecular processes of crops, soil, aerosols and effluents. This offers an added dimension to geospatial data, further enhancing and complementing existing data streams to provide a competitive edge.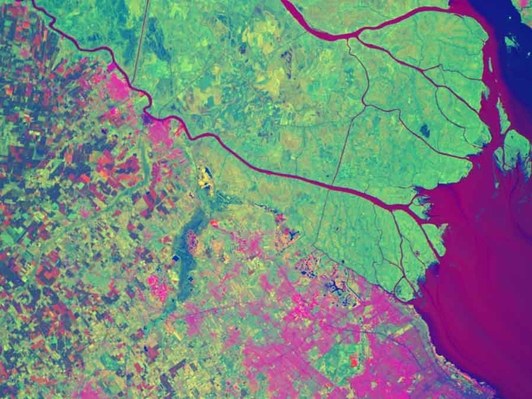 With eight satellites in orbit, Satellogic, a Buenos Aires-based space imaging company, is currently the sole supplier of commercial hyperspectral satellite imagery in the world.  The firm has plans for three more satellites by the end of 2019. "Each of our commercial satellites carries two payloads – one for multispectral imaging and the other for a hyperspectral camera of 30m GSD and 150km swath (at a 470km flying altitude). This unique sensor can discern hundreds of different spectral bands positioned arbitrarily in the spectrum with nanometric precision," says Satellogic Founder and CEO Emiliano Kargieman.
The company plans to launch a 300-satellite constellation to build the first scalable earth observation platform with the ability to remap the entire planet at both high-resolution and hyperspectral. Once complete, the constellation will provide daily remaps of the Earth at 1-meter resolution and deliver best-in-class frequency with a fully automated platform.
Satellogic has tied up with China Great Wall Industries Corporation (CGWIC), the company that commercializes Chinese space technology outside the country, to launch a constellation of 90 satellites in a series of dedicated LongMarch-6 and LongMarch-2D rockets. The first LongMarch-6, carrying 13 satellites, is expected to launch in the second quarter of 2020, which will be followed by one launch per quarter throughout 2021. "Our 90-satellite constellation will be the first scalable earth observation platform with the ability to weekly remap the entire planet at 1-meter resolution to provide affordable geospatial insights for daily decision-making," says Kargieman.
Heat and thermal sensors
UK-based Satellite Vu is developing a fleet of small satellites equipped with special sensors that will be used for monitoring plastic pollution and heat and thermal mapping. Again, the capability of sensing the thermal characteristics of objects, particularly buildings, has been the preserve of military systems or environmental applications. Satellite VU plans to change that by providing commercial data at a much higher resolution.
"Plastic has become the scourge of our society and it is choking our maritime areas. Existing methods to track these threats are not as effective either in terms of technology or cost. These include shipborne and airborne monitoring techniques," explains Anthony Baker, CEO, Satellite Vu. The company has come up with a technology that will decrease the time required to measure the plastic problem from years to weeks.
The satellites are the size of  a shoebox and they need a special telescope to achieve the required resolution. They can also be maneuvered to a point towards specific targets of interest. The rapid revisit time of the satellites coupled with their sensors ensures that a real-time picture of what is built up and happening is available. "By enabling rapid identification of where the plastic is located and where it is originating from, governments and organizations can act fast," says Baker. By 2020, its future satellite sensor will be in the final stages of completion and the data platform will also become operational, which is when it will start generating revenue.
Methane mapping
Similarly, Bluefield, founded in 2017 in Palo Alto, California, is launching micro satellites to track methane emissions. The satellites, the first of which will be launched in 2020 and eight more by 2023, uses a proprietary, miniaturized version of a sensor technology previously deployed by NASA on 12 missions. By mounting this sensor on several backpack-sized microsatellites — and enhancing the raw data with its proprietary machine vision algorithms — Bluefield will provide methane emission monitoring at a previously unthinkable combination of global coverage, high resolution and low cost.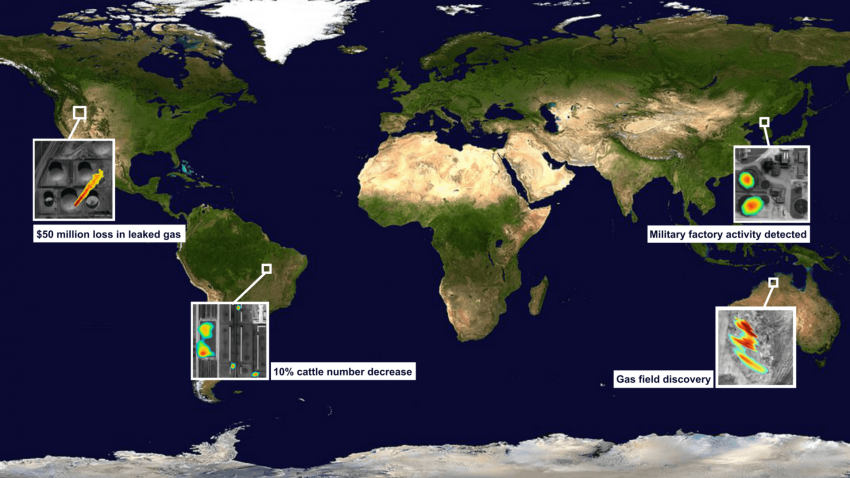 "We will be mapping every critical emitter on the planet every day. That would make for a better tomorrow because methane is responsible for 25% of global warming. By bringing this powerful data, we will play a significant role in slowing down Climate Change," says Yotam Ariel, CEO and Founder, Bluefield.
Bluefield, which is funded in part by Village Global LP, a venture capital firm backed by tech moguls such as Jeff Bezos and Mark Zuckerberg, uses an optical technique, which when combined with proprietary machine vision algorithms, enable unprecedented precision, frequency and affordability to pinpoint the millions of emitting sources on the planet. The company plans to expand to tracking other greenhouse gases like SO2, NO2 and CO2. Ariel says Bluefield will also expand from its initial focus on oil and gas emitting sources to monitoring landfills, wastewater, livestock, heavy industries, etc.
Atmospheric remote sensing
Colorado-headquartered PlanetiQ is focused on atmospheric remote sensing and plans to have a 20-satellite constellation by 2021 in sun-synchronous orbits to gain global coverage. "The first two satellites will be deployed by the end of 2019," says Steve Joanis, CEO, PlanetiQ. The company specializes in remote sensing instrument design and manufacturing, and seeks to make the seven-day forecast as accurate as a one-day forecast reading.