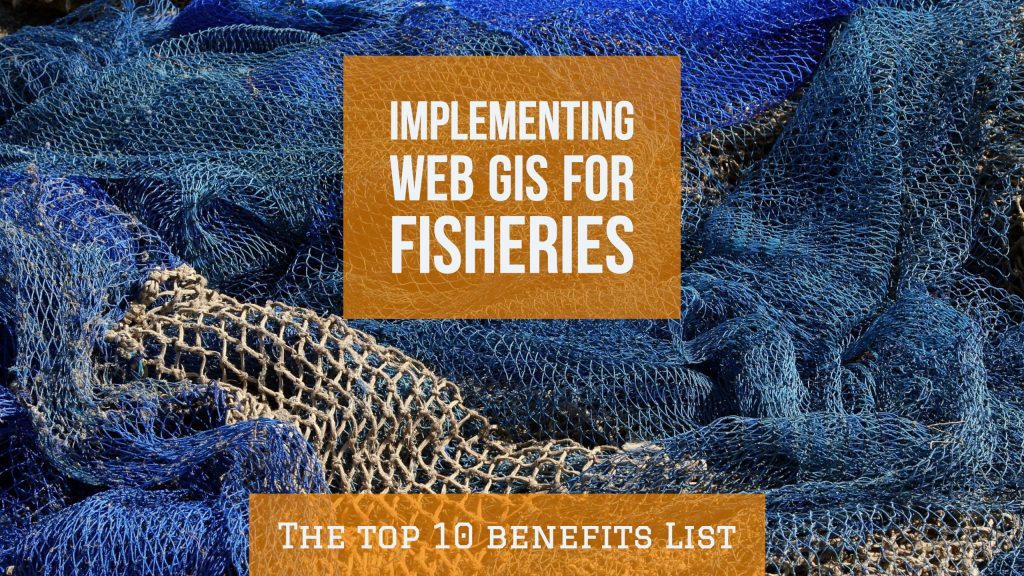 Many fishery departments are yet to understand the true potential of using Web GIS for 360-degree management of their tasks.
Firstly, let's understand the true potential of Web GIS for fisheries. Here is a list of top benefits.
1 Effectively manage and conserve water bodies – Identify and demarcate the existing water resources such as rivers, canals, streams, tributaries, etc.
2 Find suitable fishing areas – Identify water-bodies suitable for fish-farming around agricultural areas, excluding sensitive ecology zones
3 Aid in Pisciculture– Create and manage an exhaustive geospatial data pertaining to the usage and ownership of water bodies
4 Track fisherman – Mark national and international waters and enable tracking of fishing boats, real-time tracking and situational awareness
5Replace outdated data – Use GIS-based digital maps prepared by using existing paper maps, high-resolution satellite imagery aided by ground surveys
6 Enable Integrated data management – Collect, collate, and integrate all spatial and non-spatial information by creating an exhaustive inventory
7 Provide Single truth of view – Use a centralized system accessible by various departments with data always up-to-data
8 Remote data management – Enable fishery officials from remote locations to access the database, update their inventory on a regular basis
9 Aid in planning and micro-financing – Provide data and reports enabled by the GIS system that aids in budgeting, financing, and planning purposes
10 Enable decision makers – Provide data and reports that aids in budgeting, financing, and planning purposes
---
Suggested Read: West Bengal Fisheries manages infrastructure & increase production
---
How to implement Web GIS for Fisheries?
As mentioned above, using Web GIS for fisheries can bring in numerous benefits to government departments.
Department of Fisheries, Govt. of West Bengal in India implemented the central GIS database project. It was for the first time that such a large-scale mapping project using high-resolution satellite imagery data was implemented. Here is a slide deck on the same.
To summarise, here are some insights from the case study where Hexagon Geospatial's technology products were deployed.
1 Classification of water bodies using satellite imagery was a challenge. There was a need for ground surveys of water bodies
2Digital inventory created for all water bodies using image processing, GIS software by Hexagon Geospatial (GeoMedia and ERDAS IMAGINE)
3 The initial map inventory was related to surface water types, water bodies, physical infrastructure, revenue data.
4Scope of data was later expanded to include fisheries infrastructure, watersheds, habitat, inventory of fishermen, socio economic data etc.
5
To handle large volumes (20 terabytes) of data and satellite imagery, the department deployed Hexagon Geospatial ERDAS APOLLO
6 The mapping office uses the data provided by this system for micro-level for budgeting, financing, and planning purposes.
---
Read the detailed case study here – GIS for Fisheries – Hexagon Geospatial Helps Increase Production