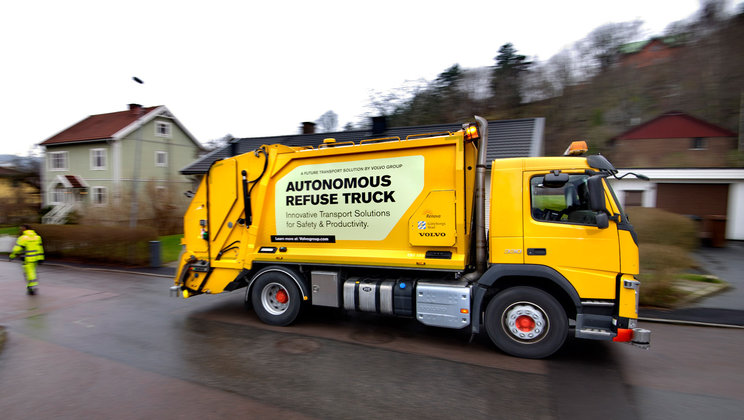 The quantum of innovation that is happening in the autonomous vehicle industry is not only limited to human transportation alone, but is also changing our way of doing things. Be it the automated surveillancing system, driverless tractors in agriculture, automated mining system, or changing the dynamics of warfare, autonomous technology is creeping into all sorts of things.
As reported by Geospatial World last year, Volvo had announced its fully automated truck to be tested for operations in the deep underground mines of Kristineberg. Now almost a year later, the Swedish automaker has also announced its self-driving garbage truck that is designed in association with Sweden-based waste management company Renova.
The autonomous garbage truck uses GPS and LiDAR to navigate on roads, but also relies on manual operation for taking first time route information. For example, when the truck travels through an area for the first time, it's driven manually, while the automated system gathers mapping data through a suite of sensors of GPS technology. But for the next time around, the truck remembers where to stop for loading garbage.
Also Watch: Volvo autonomous truck – Refuse handling like you've never seen it before
The Traffic & Product Safety Director at Volvo Trucks, Carl Johan Almqvist, commented:
"Driving a heavy commercial vehicle in an urban residential area with narrow streets and vulnerable road users naturally imposes major demands on safety, even when the vehicle's speed doesn't exceed a normal walking pace. The refuse truck we are now testing continuously monitors its surroundings and immediately stops if an obstacle suddenly appears on the road. At the same time, the automated system creates better prerequisites for the driver to keep a watchful eye on everything that happens near the truck."
Though it's a pretty good idea, the project is expected to continue until the end of the year. This will be followed by a period of analysis and evaluation. What's neat is, the truck drives in reverse while traveling along its route. "By reversing the truck, the driver can constantly remain close to the compactor unit instead of having to repeatedly walk between the rear and the cab every time the truck is on the move," said Hans Zachrisson, strategic development manager at Renova, in a statement.
"And since the driver doesn't have to climb in and out of the cab at every start and stop, there's less risk of work related injuries such as strain on the knees and other joints," the statement reads.