Melbourne, the cosmopolitan Australian city which is consistently rated amongst the best places in the world to live, is also known for its breathtaking cultural, social and lingual diversity. In this microcosm of multiculturalism, it is not uncommon to hear city dwellers bantering in Chinese, animatedly conversing about their daily lives in Turkish, greeting each other at a café in Malay, or regaling some astonishing happening in Korean.  Around 250 languages are spoken in Melbourne.
In order to get precise representation of which language is spoken in which locality, and by how many people, Small Multiples, a data visualization agency, has created a detailed language map of Melbourne with the help of 2016 census data.
Based on geographical region, the languages are categorized as Eastern Asian: Chinese dialects, Japanese, Korean (denoted by red color on map), ​Southeast Asian: Vietnamese, Filipino, Indonesian (denoted by pink color on map), Southern Asian (denoted by orange color on map): Hindi, Punjabi, Tamil, Sinhalese, Southwest and Central Asian (denoted by green color on map): Arabic, Turkish, Hebrew, Northern European (denoted by dark blue color on map): English, Welsh, German, Dutch and Scandinavian languages, Southern European (denoted by blue color on map): Italian, Greek, Maltese, French and Eastern European (denoted by light blue color on map): Hungarian, Macedonian, Polish, Romanian.
A look at the map, and it is not hard to guess that English speakers rule the country. You can see more blue dots on the map than any other color ones.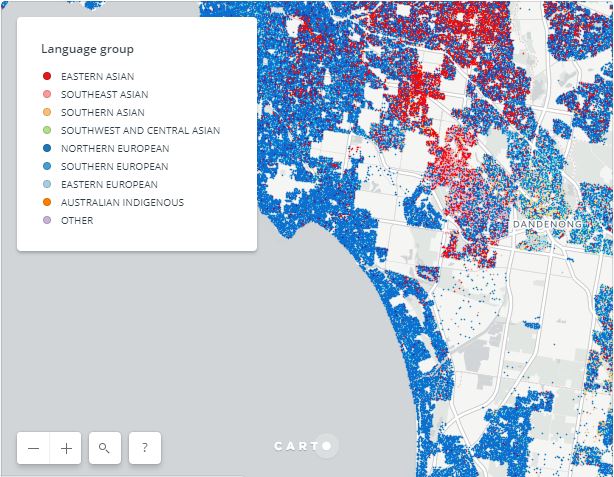 Interestingly, eastern suburbs mostly house Chinese speakers, as denoted by the patches of red –in between. People speaking Turkish and Arabic are primarily seen in the Broadmeadows area as depicted by Dense Green color.  Hindi and Vietnamese speaking people are mainly found near Willliams landings and in St Albans as is denoted by orange and pink color dots, respectively.
Jack Zhao, the director of Small Multiples, says, "There are 759,744 dots in the map, with each dot representing five people who belong to the same language grouping." Isn't that amazing? He is so confident of the precision that he challenges the observer to count himself! Are you game?
Wait! There is more. The map allows one to discover the exact number of residents in a particular suburb, and the most common language spoken by the maximum number of people. As the dots reveal, Caulfield suburb is overwhelmingly housed by English speakers, but near the campus of Monash University there are clusters of Chinese Speakers (Most probably international students). Near Glenn Huntley road we see yellow dots, signifying that substantial number of people speak Indian languages there.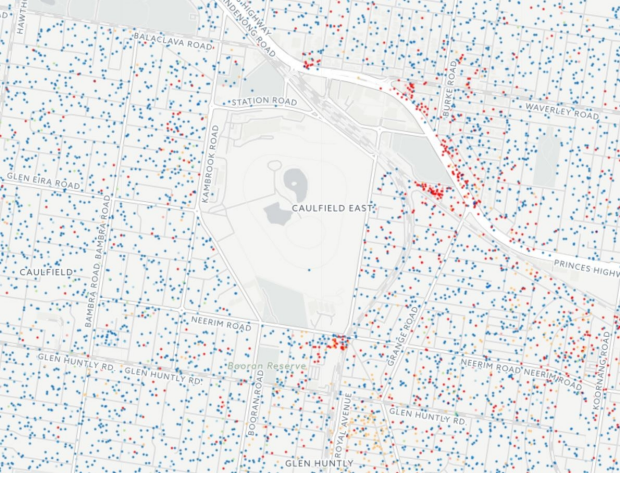 Multicolored areas show that many linguistic communities co-exist in the same locality. Dandenong, one of the most diverse and vibrant areas of Melbourne, is shown with yellowish-greenish hue. It is home to people speaking Khmer, Punjabis and Vietnamese. Springvale, where Vietnamese speakers constitute more than 25% of the population, has a pinkish shade.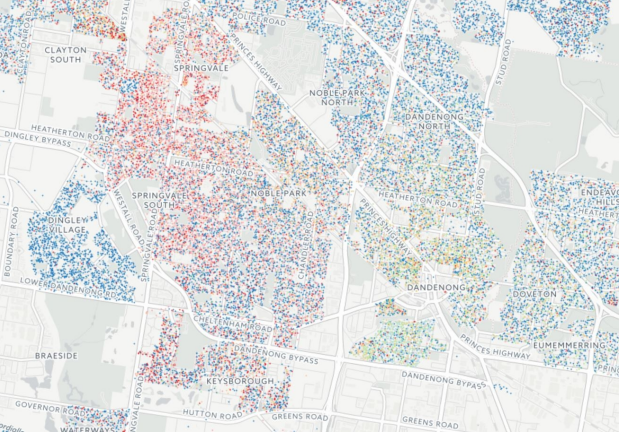 Some of the areas on the map – Mount Martha and Mornington are mostly homogeneous in linguistic profile. The dense cloud of Blue shows that the areas are not inhabited by non-English speaker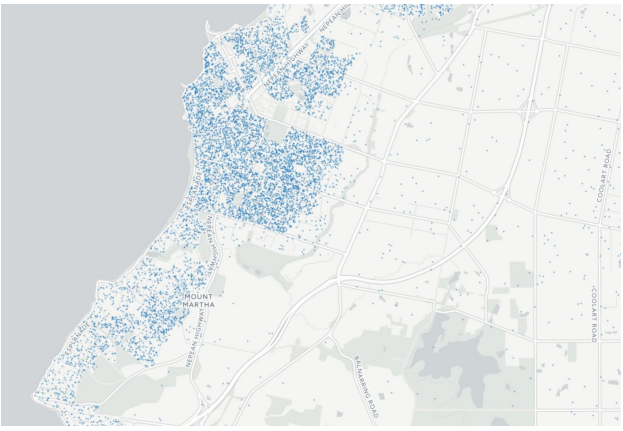 Isn't it interesting how digital mapping is being beneficial in tracing social diversity and identifying people speaking different languages? This can foster understanding of different cultures.