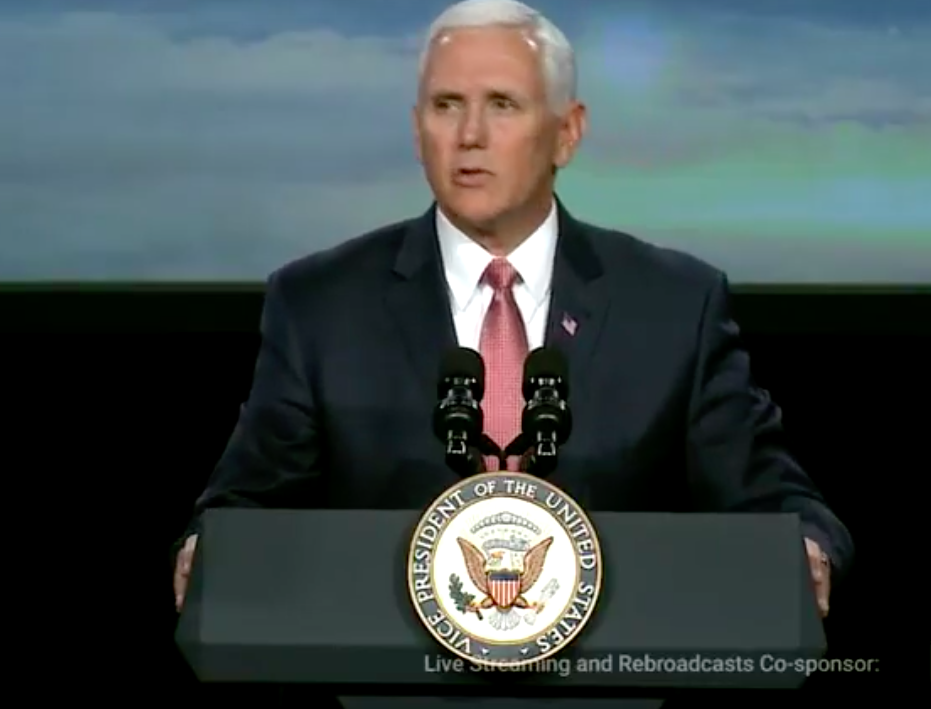 US Vice President Mike Pence announced a new set of recommendations on the Space Policy that would lay the ground for managing space traffic and space junk. The draft policy, developed by the National Space Council, talks of giving wider power to the Commerce Department instead of the Federal Aviation Administration (FAA) to provide "a basic level of space situational awareness for public and private use," based on tracking data compiled by the Defense Department.
Situational awareness data on space is currently provided by the Defense Department and the new policy seeks to seeks to take that responsibility off "so that our military leaders can focus on defending and protecting our national security assets in space," Pence said.
During his opening address at the 34th Space Symposium at Colorado Springs, Pence talked about the Trump Administration's efforts to boost human spaceflight, the Moon and Mars missions, and cut regulations in the space sector to make private industry easier. He added that the private space players would also be involved in the development of data-sharing systems and guidelines for minimizing orbital debris. The new policy will "encourage" companies to "partner with the government to develop data sharing systems, technical guidelines and safety standards," Pence said.
"The National Space Council has developed the first comprehensive space traffic management policy, which we will soon be sending to the President's desk for his approval," he added.
Space debris a grave problem
Referring to the more than 23,000 objects orbiting Earth that the US military is already tracking, Pence pointed out that these account for only 4% of the objects in space.
Moving at great velocity of thousands of miles per hour, even objects as small as 2 cm are capable of causing catastrophic damage to anything that gets in the way as was witnessed in the 2009 collision, when a dead Russian military satellite shattered a $50 million Iridium telecommunications satellite above the above the Taymyr Peninsula in Siberia.

With the volume of space traffic will only increasing in the years ahead, "a stable and orderly space environment is critical to the strength of our economy and the resilience of our national security systems," Pence added.
Pence also thanked NASA Acting Administrator Robert Lightfoot, who is retiring this month, and called on the Senate to confirm President Donald Trump's choice for Rep. Jim Bridenstine as NASA Administrator. Bridenstine's nomination has been stalled for months, leaving NASA without a proper head for the longest time in its existence.