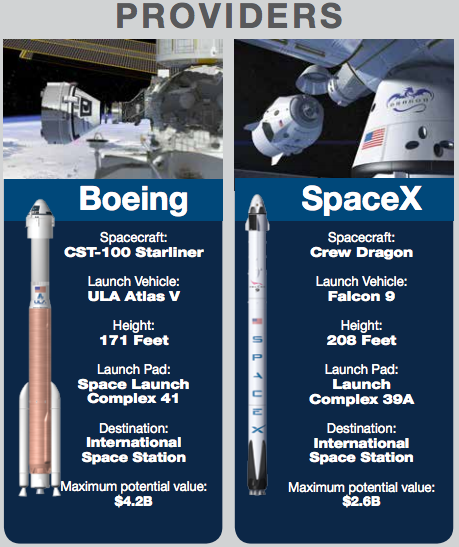 NASA's Commercial Crew Development program that intends to return human spaceflight launches to US soil is ready for test flights next year. SpaceX and Boeing were awarded contracts in 2014 as part of the program, which had faced several delays in recent times. Now, if all goes well, US will have seamless, reliable and cost-effective access to the International Space Station and other low-Earth orbit on systems latest by early 2019.
Last week the ongoing political tensions between United States and Russia threatened to spill into Space with several voices from Moscow speaking for cutting US off from the space station. Those may have been hollow posturing for the time being, but it is true that any adverse moves by Russia may leave US without any access to the space station since only the Russian Soyuz is capable of making manned launches ever since the US Space Shuttle program ended in 2011.

As if on cue, Elon Musk tweeted on August 3 he was looking forward to launching NASA astronauts to the International Space Station next year.
READ: US sanctions on Russia: Politics threatens to spill into space
Plenty of initial hiccups
Both SpaceX and Boeing had pushed back on their earlier targets since the spacecraft being developed by them —the Dragon 2 and the CST-100 Starliner, respectively — proved to be more difficult than originally anticipated. Musk recently admitted that the Crew Dragon, popularly known as Dragon 2, has been "way more difficult than cargo, for sure". The cargo version of Dragon is currently used to take supplies to the space station. SpaceX also announced recently that all Dragon cargo ships to be used by SpaceX for its missions to the ISS after a liftoff in August would be recycled ones till the new refurbished model of the Dragon is not ready next year.
"As soon as people enter the picture, it's really a giant step up in making sure things go right," Musk said at the International Space Station Research and Development Conference in Washington, D.C. on July 19.
But now all seems to be going good. A communication from NASA on July 20 said the next generation of American spacecraft and rockets that would launch astronauts to the International Space Station were nearing the final stages of development and evaluation. "To meet NASA's requirements, the commercial providers must demonstrate that their systems are ready to begin regular flights to the space station. Two of those demonstrations are uncrewed flight tests, known as Orbital Flight Test for Boeing, and Demonstration Mission 1 for SpaceX. After the uncrewed flight tests, both companies will execute a flight test with crew prior to being certified by NASA for crew rotation mission," the agency announced.

NASA also specified that as per the "most recent publicly-releasable dates", Boeing orbital flight test was scheduled for June 2018 while its crew flight test was slated for August 2018. SpaceX's unscrewed demonstration mission is scheduled for February 2018 and the crewed demonstration mission in June 2018.
What is NASA's Commercial Crew Development program?
Commercial Crew Development program is a multiphase space technology development program funded by the US government and administered by NASA via its NASA's Commercial Crew and Cargo Program Office. The program also aims to encourage the private industry to take on the responsibility of providing routine access to space following retirement of the Space Shuttle in 2011.
In 2010, NASA invested nearly $50 million of the American Recovery and Reinvestment Act (ARRA) funds for Commercial Crew Development Round 1 (CCDev1) to stimulate efforts within the private sector to aid in the development and demonstration of safe, reliable and cost-effective crew transportation capabilities. It included the development and maturation systems and subsystems, such as a spacecraft, launch vehicle, launch abort systems, environmental control and life support system, launch vehicle emergency detection systems and more. Five companies were funded in this phase — Blue Origin ($3.7 million); Boeing ($18 million); Paragon Space Development Corporation ($1.4 million); Sierra Nevada Corporation ($20 million); and United Launch Alliance ($6.7 million).
The second round of this phase (CCDev2) kicked off in April 2011 and four companies were funded $270 million in total — Blue Origin ($22 million); Boeing ($92.3 million); Sierra Nevada Corporation ($80 million); SpaceX ($75 million) — for further development and demonstration of safe, reliable and cost-effective transportation capabilities. Unfunded Space Act Agreements were also inked with Alliant Techsystems Inc. (ATK), Excalibur Almaz Inc, and United Launch Alliance to establish a framework of collaboration with additional aerospace companies, as part of which, NASA was to review and provide expert feedback on overall concepts and designs, systems requirements, launch vehicle compatibility, testing and integration plans, and operational and facilities plans.
Boeing and Sierra Nevada Corporation were funded an additional $20.6 million and $25.6 million, respectively to accelerate development. In 2012, NASA extended the CCDev2 agreement with Blue Origin in an unfunded capacity, which entailed continued support for the development of the company's Space Vehicle and related systems.
By August 2012, the Commercial Crew Integrated Capability (CCiCap) phase continued the development of three fully integrated systems. The Space Act Agreements called for industry partners to develop crew transportation capabilities and to perform tests to verify, validate and mature integrated designs. Three companies were funded in this stage — Boeing ($460 million); Sierra Nevada Corporation ($212.5 million); and SpaceX ($440 million). Later, Boeing, SpaceX and Sierra Nevada Corporation were funded an additional $20 million, $20 million and $15 million, respectively as part of their original Space Act Agreements to accelerate development.
Throughout Certification Products Contracts (CPC) phase — the first phase of a two-phase contract which was awarded in December 2012 — companies worked with NASA to discuss and develop data products to implement the agency's flight safety and performance requirements. Under the contracts, certification plans were developed toward achieving safe, crewed missions to the space station. NASA awarded a total of nearly $30 million under the CPC contracts to Boeing ($9.993 million); Sierra Nevada Corporation ($10 million); and SpaceX ($9.589 million).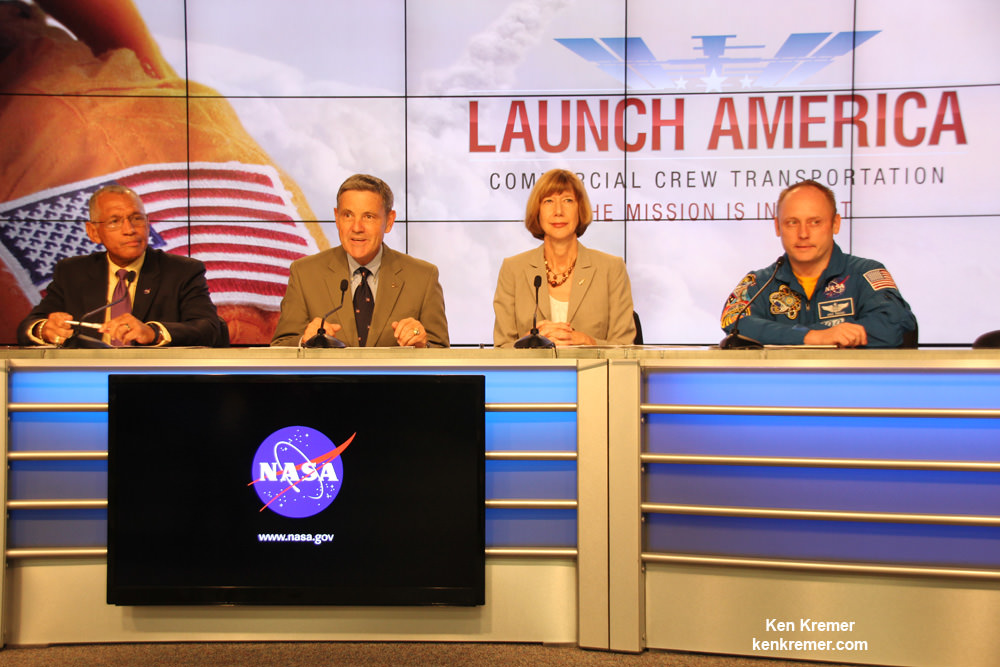 Finally in 2014, two FAR-based, firm fixed-price contracts totaling $6.8 billion were awarded in September 2014 following an open competition. Through its certification efforts, NASA will ensure the selected commercial transportation systems meet the agency's safety and performance requirements for transporting NASA crew to the International Space Station. Under this phase Boeing ($4.2 billion) and SpaceX ($2.6 billion) were chosen.
What are the benefits of Commercial Crew Program?
Having its own launch system gives US a seamless access to the International Space Station, which is critical for NASA's continued research for understanding and overcoming the challenges of long-duration spaceflight necessary for deep space exploration missions. It will also enable US to transport pressurized scientific research and cargo, and increase the station crew, enabling twice the amount of scientific research to be conducted aboard ISS.
Returning human spaceflight launches to American soil has significant economic benefits too, with more than 1,000 suppliers working across nearly every state on commercial crew spacecraft systems.
OUR SPECIAL STORY: Democratization of Space: Emerging commercial space industry and new technologies