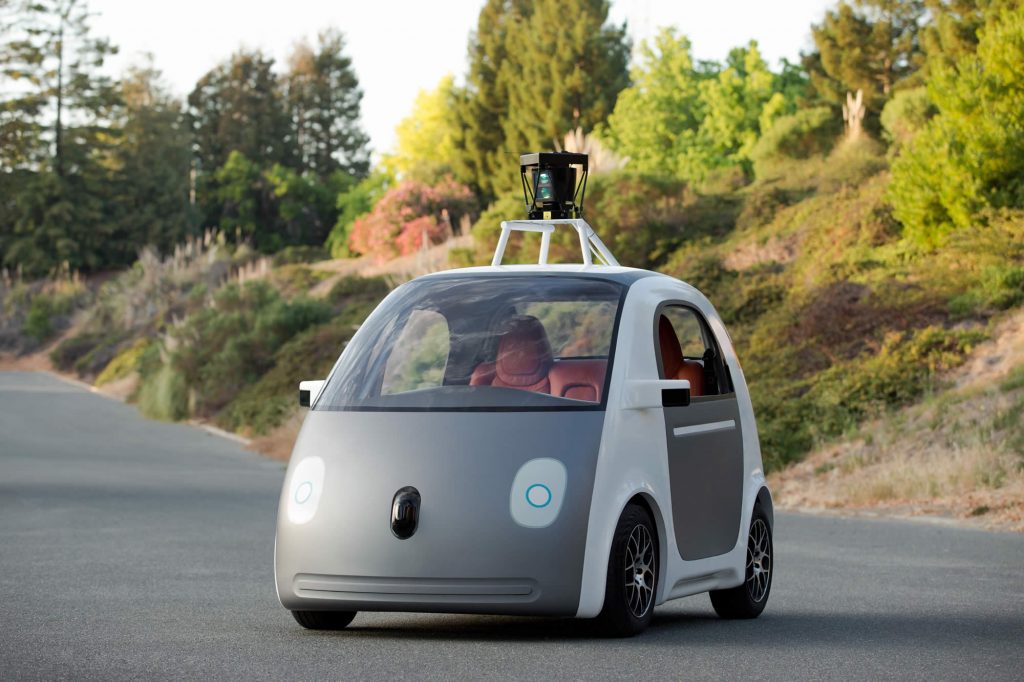 Autonomous vehicles got another shot in the arm in its attempt to step out of research labs and moving towards being a reality. The US policy on autonomous cars issued recently is designed to encourage safe development and testing of driverless technologies that have enormous potential for improving safety and mobility for Americans on the road.
Why US policy on autonomous cars was required
With major players like Google, Tesla, Uber and other big-ticket companies working on the technology, autonomous cars are expected to debut by 2020. Given such a scenario, a properly laid down policy was need of the hour since the existing Federal Motor Vehicle Safety Standards did not directly address automated vehicle technologies. The policy envisions greater transparency as DoT works with manufacturers to ensure that safety is appropriately addressed on the front-end of development. The overarching message is that the Federal government wants to accelerate the development and adoption of autonomous vehicles.
The policy lays down a proactive approach to providing safety assurance and facilitating innovation through four key parts:
1) Vehicle Performance Guidance for Automated Vehicles
There is a 15-point safety assessment for vehicle performance to set clear expectations for manufacturers developing and deploying automated vehicle technologies. DOT anticipates that manufacturers and other entities planning to test and deploy highly automated vehicles (HAVs) will use this guidance, industry standards and best practices to ensure that their systems will be reasonably safe under real-world conditions.
Given that for a vehicle compliant with the existing Federal Motor Vehicle Safety Standards regulatory framework and maintaining a conventional vehicle design, there is currently no specific federal legal barrier for an autonomous vehicle to be offered for sale. However, manufacturers and other entities designing new automated vehicle systems are subject to NHTSA's defects, recall and enforcement authority.
Figure I provides the framework for DOT's Vehicle Performance Guidance. The figure identifies the key areas to be addressed by manufacturers and other entities prior to testing or deploying the vehicle on public roadways.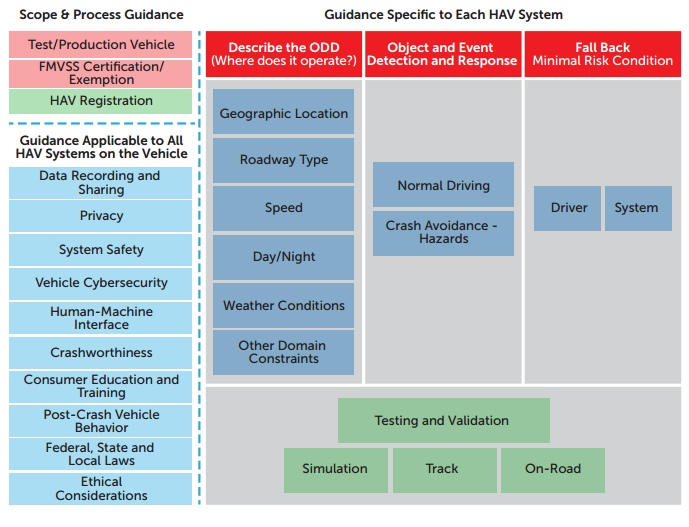 2) Model State Policy
The Federal and State regulatory roles are properly defined and a Model Policy is outlined as part of an effort to lay down a national framework for governing self-driving vehicles. Some States have already begun to pass laws and develop regulations concerning autonomous vehicles. The Model State Policy can help to avoid a patchwork of inconsistent laws and regulations among the 50 States and other US jurisdiction, which could delay the widespread deployment of these potentially lifesaving technologies.
The responsibility of the federal body or the National Highway Traffic Safety Administration (NHTSA) include:
Setting Federal Motor Vehicle Safety Standards for new motor vehicles and motor vehicle equipment
Enforcing compliance with the Federal Motor Vehicle Safety Standards
Investigating and managing the recall and remedy of non-compliances and safety-related motor vehicle defects and recalls on a nationwide basis
Communicating with and educating the public about motor vehicle safety issues
Issuing guidance for vehicle and equipment manufacturers to follow, such as the Vehicle Performance Guidance for HAVs presented in this Policy.
The responsibilities of the States' include:
Licensing (human) drivers and registering motor vehicles in their jurisdictions;
Enacting and enforcing traffic laws and regulations;
Conducting safety inspections, where States choose to do so; and
Regulating motor vehicle insurance and liability
Another important aspect addressed in the policy is the issue of "drivers". States regulate human drivers but fully automated vehicles require no licensed human driver. In order to make the transition from human-driven motor vehicles equipped with automated safety technologies to fully automated vehicles, the policy lays down that gaps in current regulations should be identified and addressed by the States (with the assistance of NHTSA). Some examples are:
Law enforcement/emergency response
Occupant safety
Motor vehicle insurance
Crash investigations/crash reporting
Liability (tort, criminal, etc.)
Motor vehicle safety inspections
Education and training
Vehicle modifications and maintenance
Environmental impacts
3) Current Regulatory Tools
Since NHTSA has been identified as the broad enforcement authority to address existing and new automotive technologies and equipment, it is required to publish information and guidance on the current Agency regulatory tools and processes in the Federal Register, and request public comments. NHTSA has four primary "tools" that the Agency uses to address the introduction of new technologies and new approaches to existing technologies, which are:
Letters of interpretation;
Exemptions from existing standards;
Rulemakings to amend existing standards or create new standards; and
Enforcement authority to address defects that pose an unreasonable risk to safety.
The US policy on autonomous cars proposes that all steps be speeded when it comes to autonomous vehicles. For instance, the "letters of interpretation," which typically requires several months for NHTSA to answer on automakers queries on how existing statutes apply to particular kinds of automotive technology, will be reduced to just 60 days for autonomous vehicles. Similarly, the exemptions clause, by which automakers can request that specific test fleets with new technologies be exempted from specific existing standards, will be reduced to six months. DOT is promising to expedite the process of amending existing standards to suit new technologies as well as address the defects and safety issues.
4) Modern Regulatory Tools
The policy leaves room for new tools and authorities with the evolution in technology. To begin with, DoT proposes to do away with the current system of self-certification by manufacturers that their vehicles comply with all applicable Federal Motor Vehicle Safety Standards, and instead move to a "pre-market approval", by which automakers clear new technologies with DoT before they hit market.
There is also a "cease and desist" power by which DoT could tell a manufacturer to halt production in case of any unanticipated safety concern. The policy also mentions "post-sale regulation of software changes" that is likely to become an interesting area of policy over the coming years. Since software updates in autonomous vehicles will be more frequent than hardware upgrades, this will put DoT in a strange nerd world as nobody is expert on this technology yet.
New road ahead
"Automated vehicles have the potential to save thousands of lives, driving the single biggest leap in road safety that our country has ever taken," US Transportation Secretary Anthony Foxx, said in a statement. "This policy is an unprecedented step by the federal government to harness the benefits of transformative technology by providing a framework for how to do it safely."
The US policy on autonomous cars is the result of major discussions between authorities and stakeholders. DoT has also invited comments from the general public. DoT, which has solicited additional public comments for the next two months on its portal www.transportation.gov/AV, plans to have a full working framework in place through a series of next steps and in response to public comments.
WATCH: Self Driving Cars are blowing Up the Auto Industry