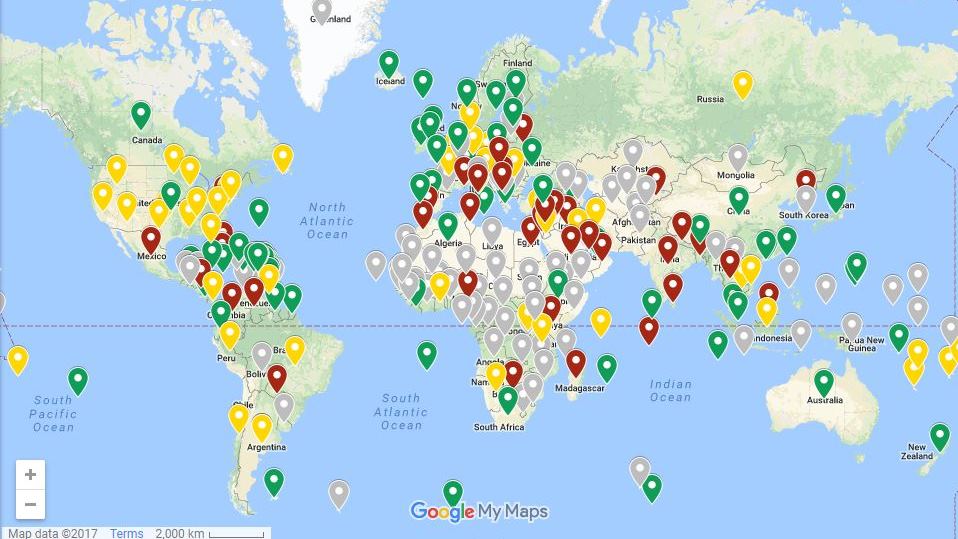 As a technology, it may have been useful to us, but in most countries drone flying is still taken very seriously. And when you are a hobbyist drone flyer in a foreign country, then unknowingly you'll multiply your troubles inevitably. To avoid such misadventures, blogger and traveler, Anil Polat, have come up with an interactive map that shows drone laws for every country in the world (for recreational use only). The map offers relevant information of more than 246 countries with regards to drone flying.
The map is split in four color coded categories: red, yellow, green and grey. The one that are in red represents the countries where flying drones are prohibited. The color Yellow represents countries who give very little space to drone flyers and give very little room in terms of regulations and guidelines. Green means that drone use is generally allowed, whereas, the color grey resembles no data or there are no defined or applicable UAV laws.
For flying a drone in countries like UAE, Canada, China, or Switzerland (marked in green), you are required to register the drone before the general civil aviation authority. For example, in UAE, once registered, the drone in flight is required to stay within visual sight of the pilot, and fly below a maximum of 400 feet. The drones may only be flown during the day, and not within 5 kilometers of any airport, helipad, or manned aircraft.
Similarly, for flying drones in countries like Belgium, Brazil, Chile or Germany (marked in yellow), you are required to follow some guidelines, for which you can refer to the map. For flying a drone for recreation use is allowed in Belgium, provided you are not using it for commercial purpose.
Countries like Antarctica, Nigeria, Kenya or Cuba (marked in red), flying drones for recreational purposes is widely banned.
Countries like Azerbaijan, Burundi, or Republic of the Congo (marked in grey), there is no data available.
The map shows the laws sourced from every country's appropriate governing body and is updated frequently. The map also includes appropriate links to registration forms of the respective countries and any contact information you might need to request permission to fly in each country. And because many a time within a country these laws vary from state to state, the map also features separate state laws, along with any area-specific laws found in other countries.
Anil has also released smartphone apps containing the same data, which can be found for Android and for iOS.