"We all are good people, we just need to see this goodness and bring out cultural collaboration to put the world back together again." – Jack Dangermond, President, Esri at the UNWGIC.
This quote from the leader at the event summarizes its essence of collaboration, cooperation and leaving no one behind.
Beginning on November 19, 2018, amid magnanimous hospitality, the event unfolded with incessant stimulating moments with extremely engaging sessions and highly intellectual discussions among the key decision-makers from around the world.
Opening Ceremony
The event kicked off with a power-packed Opening Ceremony that included welcome statements, from the United Nations Secretary-General, the Minister for Natural Resources of China, the representative of the Zhejiang Provincial Government and other dignitaries. While the thought-provoking keynote address from the speakers kept us engaged, the entire experience reached a new level of exhilaration as our CEO, Sanjay Kumar got felicitated with the coveted Global Geospatial Industry Ambassador Award at the ceremony.
Ministerial Dialogue: Towards a More Sustainable World for All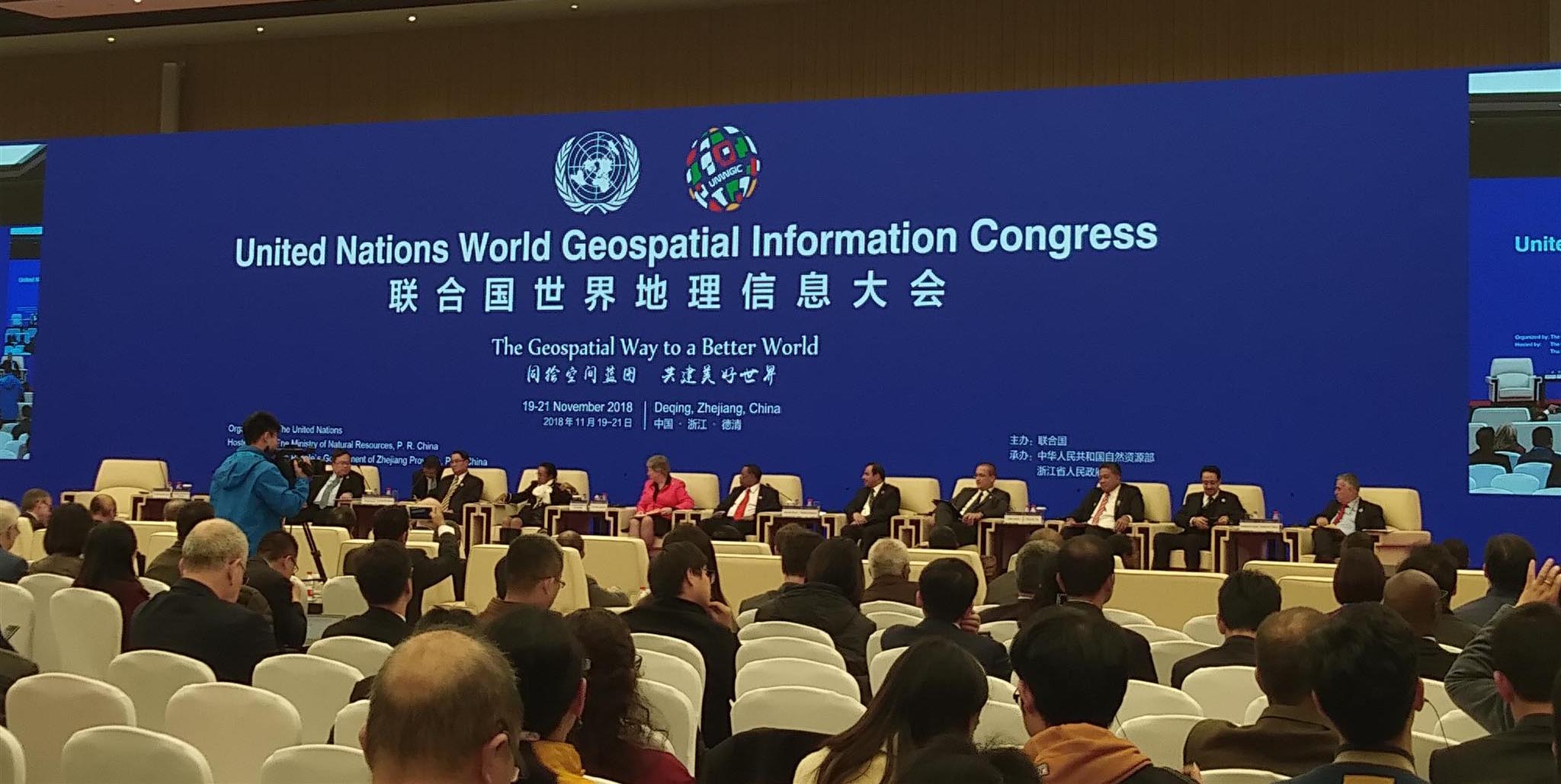 UNWGIC scaled up participation and engagement by providing a Ministerial Dialogue that connected geospatial information to national development leadership, as invited Ministers from all corners of the world discussed the policy relevance, challenges, and role of geospatial technology and innovation in providing national implementations for measuring and monitoring the SDGs and ensuring economic development and social prosperity.
Plenary Sessions
Sharing the Digital Economy
This session, featuring global technology and business leaders focused on the enabling technology innovations that influence what we are now able to achieve within the geospatial data ecosystem and its life-cycle. The leaders informed the participants how disruptive technologies, the explosion of location-based services, and the applications and interfaces that enable robust and repeatable modelling and location analytics in the modern digital economy, are fundamentally altering the way geospatial information is being used and delivered.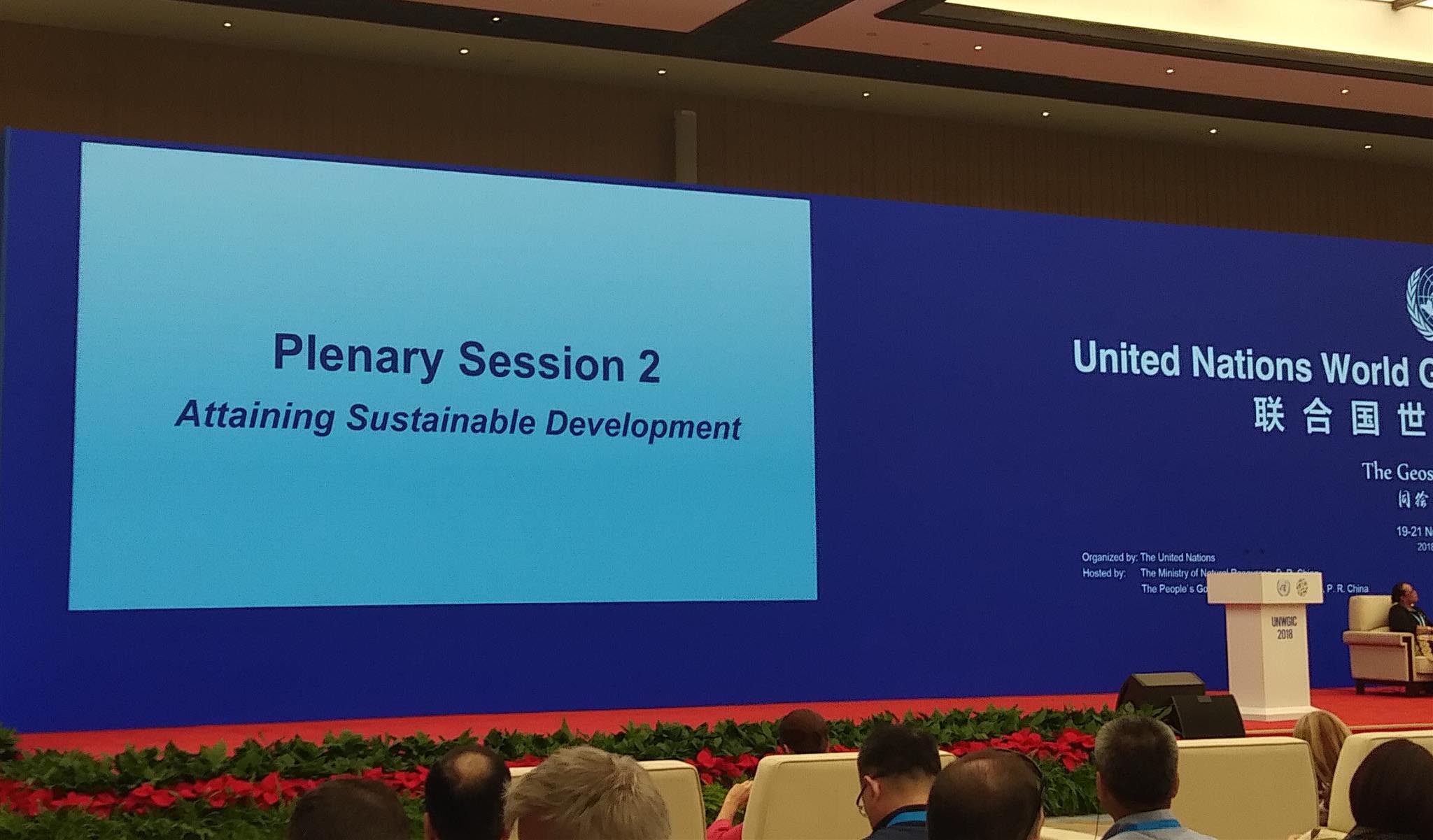 Attaining Sustainable Development
This session explored and demonstrated new and emerging information systems, approaches and solutions that are able to address local to global development challenges and support the implementation of the 2030 Agenda and the Sustainable Development Goals.

Building Smart Societies
The session featured global smart society leaders, from developed and developing countries, as they envision the cities of the future as smart data driven and location enabled to ensure their effective and efficient planning, development, management, and resilience – from land use planning and consumption rates; housing; urban expansion and monitoring; transport, utilities and related infrastructure; to energy consumption, health, education and other social services.
Growing International Cooperation 
A major capacity development goal for many developing countries is to ensure that international cooperation and partnerships can be leveraged in such a way that fosters the management and exchange of geospatial information in support of national development priorities. The Session was framed by the "Belt and Road" region. The Belt and Road initiative promises increased trade, socio-economic development, and protecting diverse and fragile environments. It also includes a digital dimension – the Digital Silk Road – to leverage the Internet, the digital economy, and improved science and technology infrastructure across the region.
Parallel Sessions
These intriguing sessions took the knowledge level of the participants to new heights as they revolved around the following themes:
Measuring and Monitoring the SDGs
Digital Economy, Location Analytics and Big Data
Smart, Resilient and Sustainable Societies
Growing Global Geospatial Capability and Capacity
Geospatial Innovation, Science and Technology
Digital Silk Road and International Partnerships
Sustainable Development in Action
Measuring and Monitoring the SDGs
Statistical-geospatial integration for the SDGs and the 2020 censuses
The session examined the benefits that are emerging from enhancing the geospatial interoperability of statistical, administrative and geospatial datasets through developments such as the Global Statistical Geospatial Framework.
Geospatial disaggregation and aggregation for the SDGs
This session examined the current state-of-the-art in aggregation and disaggregation of geographical data, and discussed potential approaches in the development of new methodologies and tools, particularly from a location perspective.
The Global Indicator Framework: new and innovative methods for disaggregation by geolocation
This session used key examples of how countries and international agencies are looking at data availability and the use of new and innovative data sources. It also highlighted how global data sources need to be more fully recognized and incorporated in the measuring and monitoring process.
Geospatial innovations for detecting and mapping infrastructure, censuses and modeled population
This session presented two innovative geospatial technologies, the Geo-Referenced Infrastructure and Demographic Data for Development (GRID) program – a partnership between UNFPA, WorldPop/Flowminder, CIESIN, the Bill and Melinda Gates Foundation and DFID and FinitEdge technologies-Integrated intelligence and AI adaptive image detection systems that accelerate capacity-building support for the most vulnerable un-mapped populations, in both developed and developing countries.
Sustainable development outcomes using geospatial data
This session demonstrated how geospatial data should be integrated into delivering tangible outcomes in sustainable development reporting. Three national use cases were offered around sustainable development indicators, natural capital accounting, and the use of data science to develop innovative new methods for SDG reporting.
Digital Economy, Location Analytics and Big Data
Artificial intelligence within the digital economy
This session explored the role of artificial intelligence in global industry and the information revolution.
Artificial intelligence and the future of urban spatial planning
The session examined machine learning in recognition of built-up areas and land use functions, City Intelligent Model (CIM) and its applications, a Big Data decision supporting platform for urban planning and an urban future prediction model.
Intelligent transportation and autonomous vehicles 
In this session, Chinese scholars and entrepreneurs shared efforts, achievements and referential experience that China has made in setting standards for a high-precision map.
Knowledge on-demand environments
This session presented an architecture for 'knowledge On-demand' environments, along with an explanation of how government is publishing machine-readable Linked Data to support knowledge inferencing and semantic interoperability.
Ubiquitous location values and big data analytic
This session helped in identifying areas where the bottleneck of current practices in technology, business modes, and regulations exist, and how to break through these difficulties.
Innovative techniques for big earth observation data analysis
This session demonstrated emerging new approaches of analyzing big Earth observation data enabled by recent developments in information technology including machine learning, artificial intelligence and cloud computing.
Smart, Resilient and Sustainable Societies
Innovations in location intelligence for smarter, sustainable cities
This session introduced how effective geospatial infrastructure and its management contribute to building and maintaining smarter, sustainable cities.
Bringing new ideas to plan sustainable societies
This session was a collection of innovative approaches and new ideas to plan sustainable societies.
Disasters will happen: how can we be better prepared?
This session used the experiences of panelists to consider some particular aspects of the recently endorsed UN GGIM Strategic Framework on Geospatial Information and Services for Disasters.
Spatially enabled future cities
The session brought together different stakeholders from government, private sector and academia to discuss and showcase initiatives towards building a Future City which is Smart, Resilient and Sustainable.
Growing Global Geospatial Capability and Capacity
FIS4SDGS: Engaging government and citizens with the SDGs
This session explored how countries and agencies are setting a vision for achieving the SDGs through a federated SDG Data Hub.
National mapping and geospatial agencies; to change is to prosper
This session provided a future roadmap for consideration by national mapping and geospatial agencies (NMGAs).
Laws, regulations and policy impacting collection, storage, access and use of geospatial information
This session presented opportunities for legal and geospatial professionals to work together to balance various concerns in legal and policy frameworks.
Marine and polar earth observation and geographic information development
The session helped stakeholders learn about the frontier of marine geographic information. Key technologies and applications of marine and polar geographic information were presented as well as a review of best practices and case studies related to acquiring, analyzing, and managing the marine geospatial data.
Global to national geodetic frameworks: core to building a better world
This session focused on three diverse themes related to geodetic frameworks: the importance of geodesy to nations and society including key drives; the challenges of managing existing geodetic infrastructure for Member States and collaborative measures needed to sustain a modern global geodetic reference frame; and general geodetic capability development and associated challenges. 
Geospatial Innovation, Science and Technology
Geospatial Innovation, Science and Technology 
This session introduced current trends in geospatial innovation, science, and technology, including AI, Machine Learning, Blockchain, IOTs, Big Data, Analytics, Security/Privacy, and Standards. The session highlighted the value of extensive Public Private Partnerships for policy-makers, technology providers and users of geospatial technologies and information.
Towards the future of geomatics science – its global impacts
This session described how Geomatics Science is undergoing tremendous change and rapid progress especially within the past decade.
Millions of mappers: organizing citizen generated geospatial data for global goals
This session brought together professionals and non-professionals active in efforts to include non-traditional mapping and data collection. Major topics for discussion included Crowd and Expert Sourcing and Crowdsourced Bathymetry.
National LiDAR programs: strategies, data management, and analytics
The session discussed best practices in acquiring complete coverage LiDAR datasets.
Global land cover and intelligent analysis of remotely sensed images
This session presented and discussed GHRLC maps, from their production, nowadays based on Artificial Intelligence (AI), to their assesment (with the presentation of tools and training material recently made available within an ISPRS project) and usage.
Digital Silk Road and International Partnerships
Digital belt and road: using big earth data for sustainable development 
The session focused on demonstrating and fostering the use of big data on Earth observations in support of environmental monitoring, promoting data sharing and policy-making support in the Belt and Road region.
Standards that make innovation possible 
This session focused on the importance of standards in the advancement of geospatial information. Experts presented information on current standards in development, how to apply standards in daily geospatial information responsibilities, and suggested various resources helpful to organizations responsible for geospatial information.
Linking people to land: the framework for effective land administration
In this session the following aspects of land administration were discussed:
UN GGIM: The need to develop a framework on effective land administration
Fit-For-Future Land Administration: Unlocking the Benefits of Sustainable, Cost-Effective Technologies
A Technical Guide for Formalization of Informal Constructions
Valuation of Unregistered Lands: A Policy Guide
African action plan on geospatial information for sustainable development
This session introduced the African Action Plan on Geospatial Information for Sustainable Development (GIS4D) to share experiences in its development and to engage in discussion on both policy and technical issues on how to establish an effective national leadership to steer and contribute to the implementation process of the activities outlined in the Action Plan of UN-GGIM: Africa.
Strengthening national geospatial information management in the Americas
The session involved sharing national experiences within the Americas in implementing geospatial information frameworks along with components in diverse subjects including institutional arrangements, legal frameworks, technology platforms, availability of geospatial data, use of standards and capacity building.
Sustainable Development in Action 
Geospatial information for urban sustainable development
The session provided an overview of the urban SDG indicators that require geospatial information and the methodological and data challenges.
Natural resources management underpinned by geospatial information
This session involved exchanging good practices and experience in natural resources management and uses of geospatial data and technology in the process in different countries, and discussing how geospatial data and technology can best be used for natural resources management and implementation of sustainable development.
Effective visualization in maps and diagrams to better understand the SDGs
This session demonstrated that although visualizing the SDG indicator data seems trivial, experience shows that during this process many decisions related to the data and visualization have to be made, which are all prone to errors. The session started with an inventory of the main problems and opportunities, using the gender inequality index as an example. After this initial phase, the participants designed their own maps and diagrams, and critique those of their colleagues. This resulted in awareness on how one can recognize bad maps, create good maps and realize that 'ugly' maps might be a matter of cultural preference.
Geospatial data to improve crop yield forecasting and monitoring
This session discussed and demonstrated the important aspects of utilizing geospatial data to improve statistics on crop production/yield forecasting and the System of Environmental and Economic Accounting (SEEA). It demonstrated how the remote sensing data can be utilized to improve crop production forecasts for addressing policies related to food security and market volatility.
A sustainable and resilient world: research and capacity development for implementing the SDGs
This session discussed the multi-dimensional contributions of the Academic Network as a critical aspect of promoting and sharing geospatial data and integration approaches, developing legal and policy instruments, implementing institutional management models, providing technical solution and standards, enhancing interoperability of systems and geospatial data, and improving access to quality and timely data. It covered the significance of a 'geospatial academy', which facilitates innovative and interdisciplinary means to involve experts from different domains in the geospatial realm.
Special Sessions for sharing and learning more
Geospatially enabled industry development
Geospatial information in the era of digital economy is not limited to the development of its own industry. It has to be integrated with other industries, so as to transform and upgrade traditional industries and bring more new opportunities for itself. This special session focused on the development trends of geospatial enabled industries.
Operationalizing the United Nations Integrated Geospatial Information Framework
The Committee of Experts on Global Geospatial Information Management in August 2018 adopted the Integrated Geospatial Information Framework that provide a basis, a reference and a mechanism for countries to develop and strengthen their national and sub-national arrangements in geospatial information management and related infrastructures. This session focused on interacting with the audience on operationalizing the Framework and supporting Member States to prepare and implement their own action plans according to their national circumstances.
Measuring Deqing's progress towards the SDGs with geo-statistical information
This session presented the methodology and major results of a case study for Deqing County in efforts to collect and report on SDGs. The session provided a live example for discussion on three isssues: 1) how can geospatial and statistical information be used for assessing the overall progress towards SDGs for an entire administrative entity; 2) how far is Deqing from achieving the SDGs and which are its most important SDG challenges; 3) which data and technology gaps need to be filled to support better monitoring and reporting over time.
Young Geospatial Professionals Summit – The star of the show
The Young Geospatial Professionals Summit allowed the younger within our global community to share their observations and experiences, in their quest to contribute and a difference. The Summit enabled the participants to engage with one another, exchange ideas, experiences and struggles to be part of the solution and to make a difference, along three broad aspects:
Effective governance and institutional arrangements;
Culture of sharing and partnerships; and
Developing trusts with geospatial data, technologies and innovation.
Closing the Curtains
The grand event came to an end with the issuance of the Moganshan Declaration and the UNWGIC Bureau summarizing the key messages from the Plenary, Parallel and Special Sessions of the Congress. Invited dignitaries shared their observations and perspectives of the Congress, and what has been learned. The one-page summaries were phenomenally presented to not only refresh the knowledge gathered in the past three days but also etch them permanently into our memories.
An out of the world experience, overall!
Also Read